Centennial Marketing Focuses on Where It All Started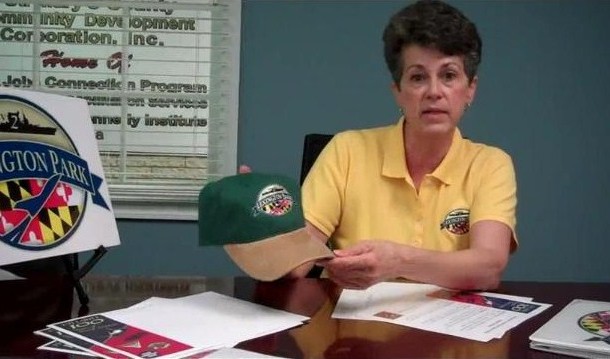 Early responses to the centennial blow-out sought by the Lexington Park Business Association and Community Development Corporation suggest a success, according to numbers that emerged from the group's meeting last week.
Businesses and organizations are purchasing banners celebrating 100 years of naval aviation and slated to festoon SMECO poles coming out both the Main Gate and Gate Two of the Patuxent River Naval Air Station. A third of all the banners sponsored will hang on base and two-thirds will stretch into the Lexington Park community. As of this week banner sales approach 200. That is already enough, said CDC President Robin Finnacom, to make a big display.
[youtube=http://www.youtube.com/watch?v=YLAE8R9IkmM]
Robin Finnacom of the Lexington Park Business Association and Community Development Corporation explains the origin of the Lexington Park Centennial of Naval Aviation logo and how businesses can sponsor banners that will hang around Lexington Park.
T-shirts, hats and posters in addition to the banners also boast a new Lexington Park logo designed to launch a marketing/branding campaign to continue beyond the 2011 centennial year. The logo can be seen as symbolic. Emblazoned between silhouettes of the early aircraft carrier USS Lexington (CV2) and a jet fighter is the title "Lexington Park."
Lately that convergence is putting a real squeeze on the Great Mills corridor that was built by the first families stationed at Pax River. The CV-2 era buildings and roads and sanitary systems are crumbling in place. Rather than maintain that original community, the largess accompanying the later jet fighters headed up a new road. The business association is looking to find ways to  capitalize upon this heritage and revitalize and recapitalize Lexington Park itself.
These marketing sales represent the first revenue to come into the business association which meets monthly to address immediate needs and future plans to repair Lexington Park.
Stories: