Celebrate MLK Day at Annmarie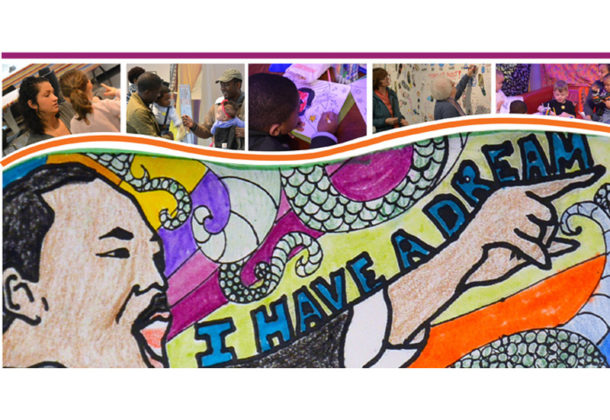 Annmarie Sculpture Garden and Art Center is offering a new way to celebrate the dream of the Rev. Dr. Martin Luther King Jr. A three-day event highlights Martin Luther King Day from 11 am to 4 pm each day Jan. 13 through 15, 2018. The MLK Day event is free.
Annmarie Garden will celebrate the life and legacy of Dr. King with an art project titled "Strength in Community." The event will be led by visiting artist Dawn Tree.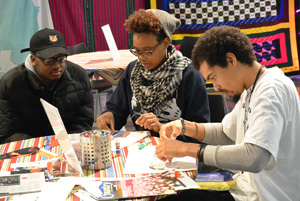 Ms. Tree is a self-taught abstract artist and will work with visitors to make a large scale mixed media painting inspired by the image of Dr. King, as well as the children's book titled "Walking with the King." The book was written by her mother Jocelyn Scales, who marched with Dr. King in the 1960s. Through the project, guests of all ages and all abilities will be able to contribute their creativity to this large-scale painting, creating in a communal work of art which celebrates the strength in our community.
"We look forward to this event each year as it brings the community together to celebrate the dream of Dr. King in a meaningful way, and opens up an opportunity to participate in something bigger than ourselves," said Stacey Hann-Ruff, director of Annmarie Sculpture Garden and Art Center.
Guests who participate in MLK Days can also enjoy the popular "Tent of Many Colors," a giant indoor communal coloring tent which transforms the Murray Arts Building into a gathering space that has become both peaceful and inspiring. Anyone can step inside the tent and enjoy the therapeutic qualities of coloring.
Supplies will be available and all ages are welcome to color. Guests can also step into the artLAB Creative Reuse Center for a hands-on activity, where everyone can create an original piece of art to take home, inspired by Dr. King. Lastly, guests can tour Kindred: Celebrating Our Ancestors, in the Kay Daugherty Gallery, a beautiful art exhibit exploring familial connections.
MLK Days is appropriate for all ages; admission is free, thanks partly to financial support from Harris Lawn and Landscaping of Lusby; donations are also accepted. For more information, call 410-326-4640 or visit Annmarie's website, listed above.
To learn more about Annmarie Garden, visit its Leader member page.