Celebrate #GivingTuesday With CSM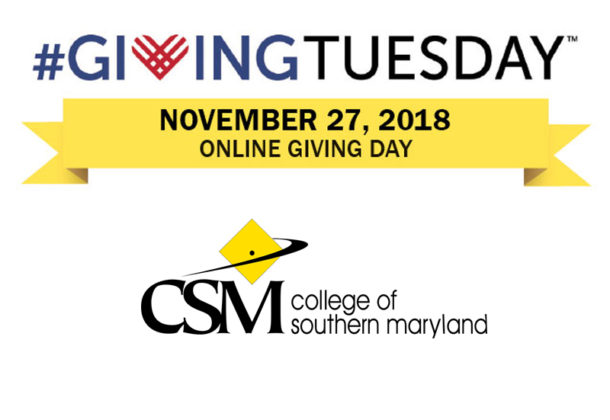 As the spirit of Thanksgiving starts to set in, celebrate #GivingTuesday on Nov. 27, 2018 — the Tuesday before the holidays for gratitude — by donating to the College of Southern Maryland Foundation.
The CSM Foundation is joining thousands of colleges and nonprofit organizations around the world for the purpose of celebrating generosity. The online giving event will last 24 hours.
Donors can make an impact in the community by donating to CSM scholarships and programs. Gifts of all sizes that are made on #GivingTuesday will help transform lives right here in Southern Maryland by increasing access to education, plus career and workforce development.
In 2017, the CSM Foundation raised $123,124 through the donations of 370 students, friends, alums, and community members.
Choosing CSM this year means championing student success! Every donor's support will help CSM students who are working toward degrees, certificates, or the mastery of a new skill set.
The goal for 2018 is to have 300 unique donations on #GivingTuesday. There are some awesome features this year, making donations all the more interesting.
First, some donations will be doubled. Generous donors have pledged to match individual gifts, dollar for dollar. Choose to donate to a matching fund and double the impact!
Next, donors can both give and receive. If you donate during a power hour, you'll be entered into a live drawing to receive a fantastic prize.
There are highlights for specific student programs. This #GivingTuesday, both CSM Athletics and the CSM Student Association are raising money for programs in their areas.
Check out the details, donate online, and see a countdown clock on the CSM Foundation website, linked above.
For more about the College of Southern Maryland, visit its Leader member page.