Naval ROTC Cadets Fundraise for Pearl Harbor Parade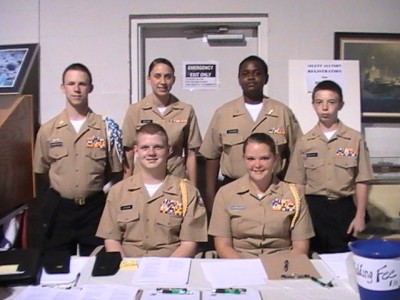 Calvert High School Naval Junior Reserve Officers Training Corps Cadets are fundraising to accept their invitation to represent Maryland and the USS Maryland in the Dec. 7, 2013 Pearl Harbor Memorial Parade.
The USS Maryland was one of seven ships on battleship row on Pearl Harbor attacked in 1941. Damaged by Japanese bombs, the Maryland  returned to service and fought in seven key battles in the Pacific as a flag ship.
The NJROTC  program promotes patriotism, orderliness, and precision. Cadets develop a strong degree of personal honor, self-reliance, and goal accomplishment through teamwork and education. They are taught military tradition, service and discipline through classroom instruction, team activities, community service, and  field trips.
The cadets are fundraising to assure the greatest number can attend the parade. The required minimum is 50 cadets and 10 chaperones, which will cost the unit about $75,000. To take all 115 Cadets and required chaperones it will cost the unit approximately $195,000.
Donations can be made  to CHS NJROTC and are fully tax deductible. You will receive a thank you letter/receipt plus an appreciation plaque for donations of $500 or more. For tax purposes, federal tax identification number is 526000897. If you have any questions or would like additional information, please contact (410) 535-7349. Send e-mail inquiries to [email protected]