"Butterfly" Packing for NYC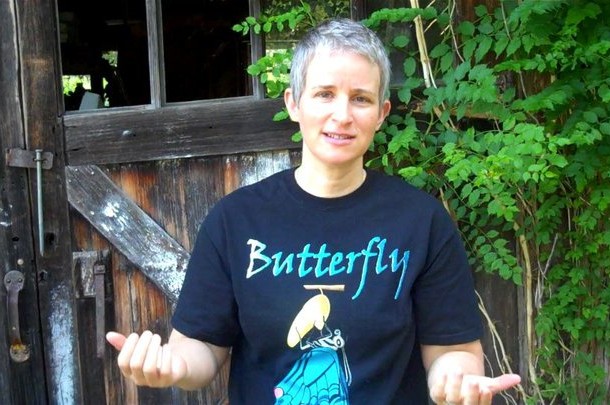 Trish Cole, on St. Mary's City playwright and director of the award-winning play Butterfly, is in competition for yet another award. She is taking her Newtowne Players' cast to the prestigious Strawberry One-Act Festival this month.
"This play was part of the Newtowne Players'  Footlight Festival in 2009 and was selected to represent NTP at the State Festival in 2010 where it received an Excellence in Original Script Award and the EdRoChar Award for Technical Excellence," said Bill Scarafia, president of the Three Notch Theatre, home to the NTP. "The original NTP cast will be performing in New York City on Sunday, July 31st."
"The festival," Cole explained, "has essentially four rounds.  If we make it through each round, we could be performing throughout the week in New York City up until Sunday, August 7.  I submitted the application as a Newtowne Players production, because I am taking the NTP cast, and I feel strongly about NTP's motto of 'community theatre equals theatre as community.'  There's definitely a feeling of community with this cast, crew and production."
Cast members Gloria Ranta, Missy Bell and Jessica Magno, along with their technical crew, are in rehearsal. The rehearsals and the production details are highlighted  in a video diary Ms. Cole has posted on YouTube (see below).
This is the 20th season for the Strawberry One-Act Festival. "Butterfly" is among 38 plays in competition at the Hudson Guild Theatre. The plays promise "kinky sex, union-busting, secretive neighbors, families on the edge, and the inspiring story of one of the most prolific songwriters you've never heard of," according to the theater's press release.
The New York launch party to meet the playwrights is July 11th. The festival runs from July 28 through August 7.
K&B Tours is offering a New York tour July 30 & 31st to include the three one-act plays (including "Butterfly)" to be presented Sunday evening July 31. The cost is $245 per/double occupancy, $332 single plus $22 per person for the plays.The price includes hotel accommodations Sheraton in Brooklyn, NY with a view of the Brooklyn Bridge, deluxe Motor Coach transportation with snacks, sodas and videos, baggage handling and full breakfast Sunday morning.
To reserve a spot call Bill or Kathy at 301-884-8728 or 240-925-0801 or contact Bill Scarafia at [email protected]
[youtube=http://www.youtube.com/watch?v=-H39MVKaXC4]
[youtube=http://www.youtube.com/watch?v=D_m7SWanDuE]