Breast Cancer Patients Benefit from PRMI Effort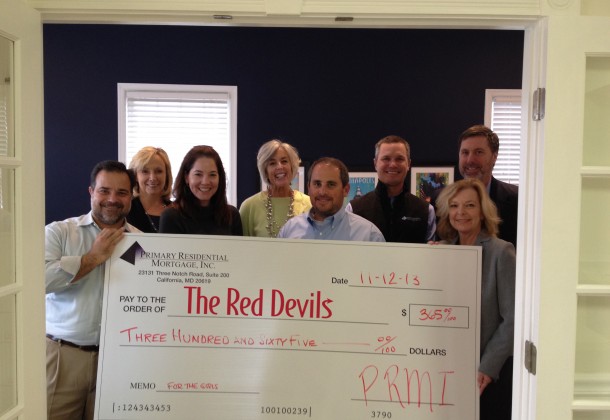 Posted by
Primary Residential Mortgage Inc.
PAX Leader
The employees of Primary Residential Mortgage Inc. campaigned in several ways to raise awareness of October's Breast Cancer Month and motivate women to make screening appontments, including wearing the traditional pink and kicking off a Facebook fundraiser, dubbed "This One's for the Girls."
They invited  the community to "like" the PRMI branch Facebook page with the reward of a $1 donation to a worthy breast cancer cause.  When it came time to donate the $365 raised through this effort, the company returned to its Facebook page to find the best local recipient.
"We received numerous thoughtful suggestions. See our FB page," says Barry Friedman, marketing manager. "And after careful research and consideration we settled on The Red Devils, an organization different from any other we found."
The Red Devils partners with both MedStar St. Marys Hospital and Calvert Memorial Hospital to provide and fund services that improve quality of life for breast cancer patients and their families. The emotional and physical impact of breast cancer often makes many things, such as house cleaning, transportation to doctor appointments, and prepping family meals, nearly impossible. In the past three years, more than 30 patients have benefited from its assistance. More about this organization and the people it has touched can be found on the Red Devils' web site.
Why the name Red Devils, Mr. Friedman asked? This was the response from Jan Wilson, the Executive Director of the Red Devils, (410.323.0135 or [email protected]). "Our name comes from the nickname for a chemo drug used to treat breast cancer. The drug is Adriamycin and is nicknamed Red Devil because it's bright red and is said to take you to hell and back because of its effects on your body. It's a very potent and powerful drug just as we are a powerful force in breast cancer patients' lives."
The team at Primary Residential Mortgage wants to help spread the word about this worthy organization and hopes those who could benefit will receive what they need and those that can provide additional support will join in becoming "Red Devils' Advocates".