Boeing's P-8 Poseidon Contract Grows by $100 Million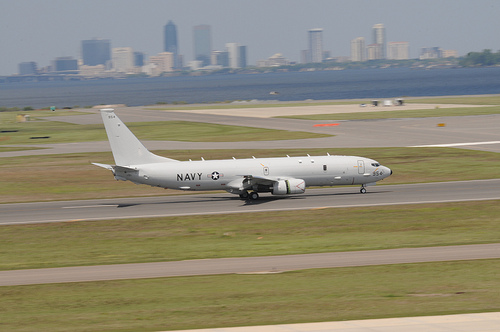 Morning Coffee is a robust blend of links to news around the internet concerning the Naval Air Station Patuxent River economic community. The opinions expressed here do not necessarily reflect those of the Leader's owners or staff.

Boeing's P-8 Poseidon contract has had $100 million added to include maintenance and ordnance load training devices reports FedBiz, quoting the Jacksonville Business Journal.  Included are six Virtual Maintenance Trainer Devices and 14 Hardware Type II devices.
Military and other federal retirees, along with Social Security recipients, will receive a 1.5 percent benefit increase in January, the Washington Post reports.  The increase represents a cost of living adjustment  based on inflation measured in FY13.
Reps. Gerry Connolly, D-Va. and Tom Rooney, R-Fla., are working on a bill to avoid interruptions of death benefits such as occurred in the recent government shutdown, says Navy Times.  The government will run out of money again on January 15.
To address concerns that drones kill too many civilians, MBDA proposes a missile that "does not miss," says the American subsidiary of the European missile company, which proposes the highly accurate Brimstone 2 as an alternative to missiles currently used in CIA and Air Force Predator strikes, reports Breaking Defense.  The Brimstone 2 has a 98 percent strike rate and can be effective with fewer casualties and minimal collateral damage.
Raytheon and the U.S. Navy confirmed testing the capability to guide the newest version of the Joint Standoff Weapon (JSOW) C-1 from an E-2D airborne early warning and control aircraft, according to Defense Update.  The team demonstrated how an F/A-18E/F Super Hornet aircraft, an E-2D Advanced Hawkeye aircraft and the JSOW C-1 can network together.
The Navy seeks active, reserve and civilian forces to participate in a Multiplayer Online War Game to generate ideas on capacity, capabilities and keeping "warfighting first," according to America's Navy.
Contrary to recent DoD Inspector General criticisms, the Marines state that the Bell Boeing V-22 Osprey tilt rotor aircraft has deployed and flown "with properly trained and equipped combat ready Marines and mission capable aircraft" over the last six years, according to Breaking Defense.
The Navy has announced the names of 50 sailors to participate in the Seaman to Admiral-21 commissioning program in Fiscal Year 2014, along with 26 alternates, reports the Navy Times.  These sailors will attend college full time and earn their commission after completing a Navy-approved bachelor's degree program.  The Navy received 469 applications for the program.
The Turkish government signed a contract for an initial order of 10 drones locally designed and manufactured by Turkish Aerospace Industries, who will also manufacture the aircraft, states DefenseNews.