Blimp Sports New Colors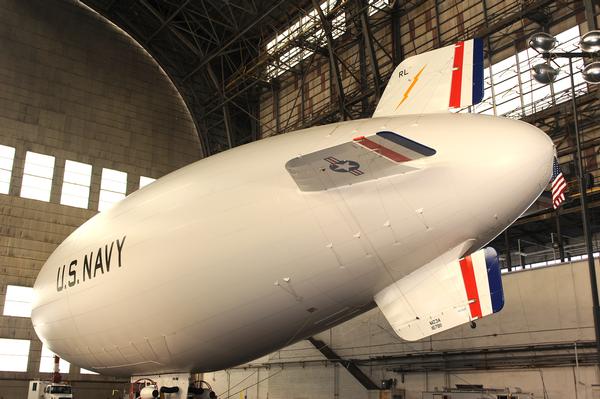 The U.S. Navy MZ-3A manned airship advanced flying laboratory has new markings and colors. The new colors celebrate the Centennial of Naval Aviation.
Historic Hanger One at Joint Base McGuire-Dix-Lakehurst, N.J., was the setting where Navy officials re-dedicated the only airship currently in Navy active flying service this week. Lakehurst was the site where the Navy's old lighter-than air-program operated from 1921 to 1962.
The MZ-3A is used as a testbed for Intelligence, Surveillance and Reconnaissance (ISR) sensors requiring a stable and vibration free testing environment. The MZ-3A was called into service to help during the Deepwater Horizon oil spill recovery operation in March, 2010. The airship and crew operated out of Jack Edwards National Airport in Gulf Shores, Ala., transporting the U.S. Coast Guard investigating the waters over the Gulf of Mexico. Observers report excellent results when searching vast areas like the Gulf due to the slow travel speed of the airship.
"Airships also bring affordability to testing," said Steve Huett, program manager for the MZ-3A. "You can operate an airship for 40 percent of the cost of fixed-wing aircraft or helicopters."
The airship is assigned to Naval Research Laboratory Military Support Division Scientific Development Squadron ONE (VXS-1). The Navy Airship Program is managed by the Naval Air Warfare Center Aircraft Division. Both organizations are located at Naval Air Station Patuxent River, Md.
Integrated Systems Solutions, Inc. is the contractor responsible for maintaining and operating the airship in many locations throughout the country.
The MZ-3A is 178 feet long, capable of flying up to 9,500 feet and cruises at 45 knots. The ship is fitted with two Lycoming engines and has space for one pilot and nine passengers.
Source: NAWCAD Public Affairs