Biopsies Close to Home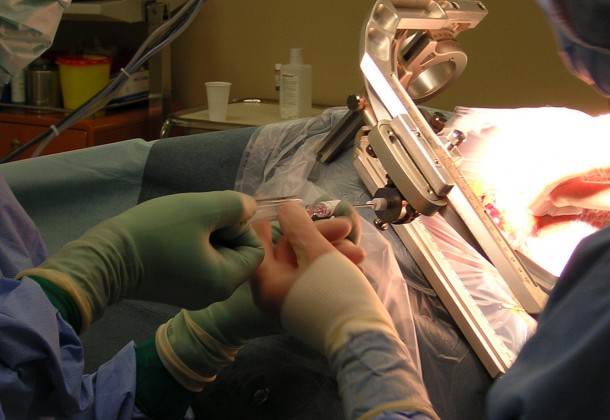 Posted for
Medstar St. Mary's Hospital
Pax III
MedStar St. Mary's Hospital's pledge to the community is to bring services closer to home — a promise we are fulfilling every day with our world-class physicians and innovative technologies. MedStar St. Mary's is a full-service hospital, providing patients in the community with the conveniently located quality health care they need. We encourage any patient who is unsure if a specific treatment or procedure is available locally to explore their options with MedStar St. Mary's.
For instance, patients needing procedures such as image-guided biopsies may not be aware that our MedStar Medical Group Radiology physicians, who are MedStar Washington Hospital Center physicians and experts in their field, provide those services in Leonardtown.
"We offer just about every image-guided biopsy that can be done, from thyroid and breast biopsies to lung and bone biopsies," said Ethan Leeman, director, Imaging/Cardiology/Neurology. "These are the same things performed at specialty centers, and they are performed by the same doctors."
Image-guided biopsies use equipment such as ultrasound, MRI or CT to display an image of a specific body part. A physician then uses a needle to take a small amount of tissue from the patient for further analysis. The technique is far less invasive than traditional surgical biopsies and can be even more accurate.
"We are doing a lot of things now that we weren't necessarily doing prior to this group," Mr. Leeman said. "We can do just about anything that can be done in an imaging department."
MedStar Medical Group Radiology includes Musculoskeletal Radiologist Jeremy Camden, MD, Interventional Radiologist Scott Kuo, MD, Women's Imaging Specialists Emily Sosnoski, MD, and Adele Fields, MD, and Women's Imaging Specialist and Chief of Radiology Anna Choi, MD.
"We can do everything down here that can be done at MedStar Georgetown, so patients should definitely check here first before travelling outside the community," said Mr. Leeman.
To find a MedStar Medical Group Radiology physician call (301) 475-6106, or to schedule an imaging appointment, call (301) 475-6399.
About MedStar St. Mary's Hospital
MedStar St. Mary's Hospital is a full-service community hospital, delivering state-of-the-art emergency, acute inpatient and outpatient care in Leonardtown, Md. Nestled in a waterside community, MedStar St. Mary's provides advanced technology with a dedication to excellence in all services provided. The not-for-profit hospital has been named among the nation's Top 100 Hospitals™ and is an eight time recipient of the prestigious Delmarva Medicare Excellence Award. Our staff is committed to providing quality and compassionate medical care for all patients by coupling innovation with our outstanding team of Medical Staff members, associates and volunteers. Visit MedStarStMarys.org to learn more.
About MedStar Health
MedStar Health is a not-for-profit health system dedicated to caring for people in Maryland and the Washington, D.C., region, while advancing the practice of medicine through education, innovation and research. MedStar's 30,000 associates, 6,000 affiliated physicians, 10 hospitals, ambulatory care and urgent care centers, and the MedStar Health Research Institute are recognized regionally and nationally for excellence in medical care. As the medical education and clinical partner of Georgetown University, MedStar trains more than 1,100 medical residents annually. MedStar Health's patient-first philosophy combines care, compassion and clinical excellence with an emphasis on customer service. For more information, visit MedStarHealth.org.