A Big Slice of Pie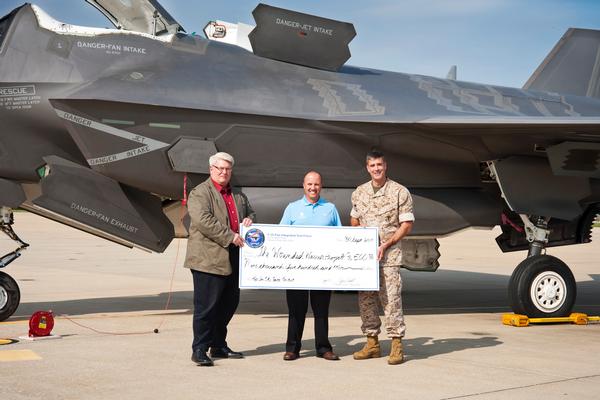 The F-35 Integrated Test Force (ITF) at Naval Air Station Patuxent River raised more than $9,000 during a team building event for the Wounded Warrior Project Sept. 12.
Last week, ITF leadership presented a ceremonial check to Denis Oliverio, a Wounded Warrior Project representative at Pax River and contractor supporting the H-53 Heavy Lift Helicopters program office (PMA-261).
"It's amazing what people can do in supporting a very serious subject, and also have fun along the way," said Oliverio, a combat-wounded Marine in Iraq. "They found a creative way to help honor and empower the Wounded Warrior."
Lockheed Martin F-35 ITF site director Jim McClendon generated the idea for the event. "We work the team pretty hard, and sometimes we need to take a step back," said McClendon. "But we must never forget who we work for."
During the ITF "pie in the face" event, team members concocted "pies" which the highest contributors won the right to launch with abandon.
The ITF's United Kingdom contingent provided the "pie" for Marine Col. Roger Cordell. "It tasted much like British food," said Cordell, F-35 ITF military site director. "Inedible."
Charged with the test and evaluation of the Navy and Marine Corps' F-35B and F-35C versions of the Lightning II Joint Strike Fighter, the ITF is comprised of more than 800 military, civilian and industry personnel.
For more information on the Wounded Warrior Project, contact Denis Oliverio at 240-577-1495 or [email protected]
Source: PEO(JSF) Public Affairs