Auxiliary Is at the Heart of MedStar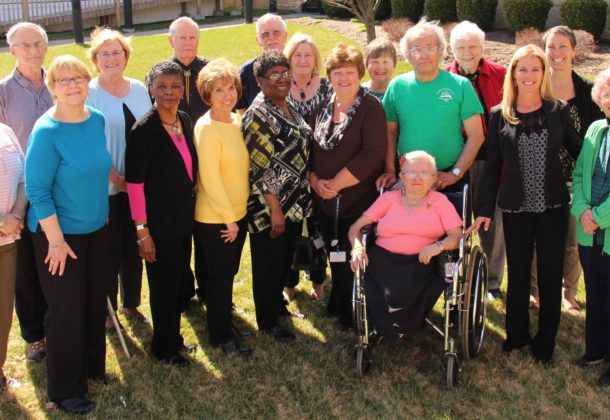 Without the MedStar St. Mary's Hospital Auxiliary, it's hard to know where the Leonardtown hospital would be today.
Members of the auxiliary coordinate and participate in a large number of activities that raise money to enhance hospital facilities and services. Members staff the hospital's gift shop seven days a week. They plan and hold fundraisers like the annual Auxiliary Golf Tournament and Holiday Bazaar.
Because of all these activities, since 1916, the St. Mary's Hospital Auxiliary has played a key role in acquiring many vital improvements for the hospital throughout its 100-year history. Patient comfort has been the No. 1 focus since the very beginning. The group has donated money for projects both large and small, from breast pumps to building renovations. At some point during the hospital's history, the auxiliary has touched every department at the hospital in some way. In fact, the group has donated more than $5 million to the hospital over the past 100 years.
Interested in becoming a member? Contact the auxiliary liaison at 301-475-6010.
Here is just a sample of the auxiliary's unending support throughout the decades:
1940s: Helped buy linens and pay to paint the hospital's exterior.
1950s: Paid for air conditioning, tile floors, and exterior flood lighting.
1960s: Helped boost patient care and satisfaction by buying television sets, a new stove and fryer for dietary needs, and a new heart resuscitator.
1970s: There were many significant gifts in this decade, including an x-ray film processor, microfilm equipment for medical records, operating room lights, gurneys in the Emergency Department, and money for second-floor renovations.
1980s: More than $500,000 was raised for materials, equipment for the psychiatric unit, and a new hospital building that opened in April 1984.
1990s: The group donated money and equipment for several improvements in women's health care like a mammography imaging system, obstetrical diagnostic equipment, fetal warmer unit to put in labor rooms, and obstetric tote bags that included breast pumps, plus a television viewing system for patients and money for a new dining room addition.
2000: The group combined pledges to support renovation of the radiology suite and hospital expansion projects which totaled more than a million dollars. An additional half a million dollars paid for cardiac monitors for Post-Anesthesia Care Unit, ECC, Intensive Care Center and telemetry, as well as a dexi-scan, a c arm, and fetal monitors.
2010 – Hundreds of thousands of dollars have been donated so far for projects like landscaping around the Outpatient Pavilion, including a garden for Cancer Care and Infusion Services patients to enjoy during their visits for treatment, and much needed medical equipment in support of doctors, nurses, and clinicians.
Incredible recent support has included $100,000 toward the reconstruction of the atrium, a portable ultrasound machine for the hospital's Intensive Care Center, 13 new rocking chairs for the Women's Health & Family Birthing Center, and the upcoming installment of automatic doors to help patients visiting physician offices in the Outpatient Pavilion.
To learn more about the auxiliary and to get involved, visit the group online or call 301-475-6453.
For more information and one-click access to a full list of resources available at MedStar St. Mary's Hospital, visit its Leader member page.