At CSM, You Can Engineer Like a Girl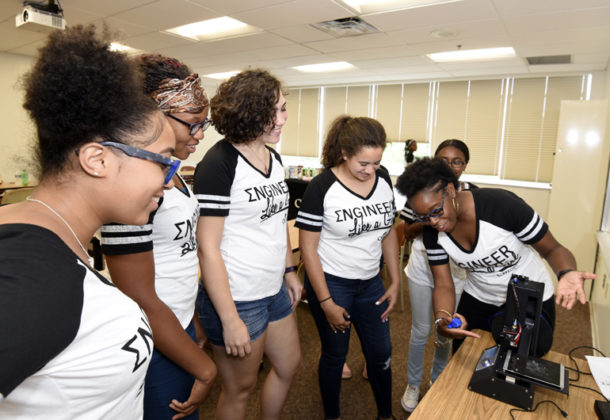 Jehnae Linkins, instructor, on the far right, describes how a 3-D printer works to a group of participants in the 2017 Engineer Like a Girl program, offered by the College of Southern Maryland. Participating in the discussion are, from left, Isabella Corradi, Meleah Smith, Olga Sullivan, Shareese Adams, and Alexus Woodland.
Summers at the College of Southern Maryland are about fun, learning, and new experiences, especially when it comes to Engineer Like a Girl. This program, at the Leonardtown Campus, brings girls together to learn about science, technology, engineering, and math and then apply their new knowledge to exciting challenges.
One challenge: is it possible to design a gumball machine with everyday items like soda bottles, pipe cleaners, modeling clay, wooden skewers, and a hot glue gun? Apparently, it is, as proven by the middle and school girls who spent their last day of the program, which was held July 24 through 28. The girls were in two groups and they spent the morning tackling the problem together.
"Hey, it works!" exclaimed Olga Sullivan of Piney Point as she rose her arms in victory after her group launched a successful test run of their machine.
But the week was about more than a gumball machine. The girls also worked with a 3-D printer, explored topics like biomechanical analysis and computer-aided design and then took a field trip to Patuxent River Naval Air Station to visit labs and talk to female engineers at work.
"It was definitely encouraging and inspiring," said participant Shareese Adams of Welcome. Adams is a rising sophomore at Henry E. Lackey High School and plans to be a chemical engineer. Her favorite part of the week, she said, was the field trip to Pax River and "seeing all the women engineers."
The program is about more than exposing girls to career opportunities in engineering, said CSM pre-engineering coordinator Shadei Jones, who, with academic adviser Jehnell Linkins, created Engineer Like a Girl three years ago. The program was created to inspire girls and prepare them for subtle and not-so-subtle pushback to their aspirations.
Female representation in engineering is at 8 to 15 percent, according to the Chicago Tribune, which cites the Society of Women Engineers. "It's low," Ms. Jones said.
As teams worked, Jones talked about some of the challenges that come with those low numbers and with slow-to-change attitudes. Jones experienced resistance in her own career as a manufacturing engineer, particularly when she was promoted to positions of authority. She referred to an Oct. 31, 2016, article in the publication Diverse Issues in Higher Education which stated that 17 percent of white, male engineers considered diversity a threat to the integrity of the profession.
"They're up against something. I've got to get them ready," Ms. Jones said of the girls in the program. "That's why I started the camp."
For that reason, program organizers talked to the girls about planning for college success, working toward a balanced life and asked them: "What would you do if you weren't afraid?" They surrounded the girls with poster-sized images of successful women to inspire them — Sheila E. Widnall, MIT aeronautics and astronautics engineering professor; Martha Chavez, program manager for Hewlett-Packard; Uma Chowdry, director of DuPont engineering technology; and Moira A. Gunn, president of Megotech Media.
"It's probably tougher for women because it's usually a man's profession," Ms. Adams said, conceding that her plans to become a chemical engineer may include roadblocks.
Engineer Like a Girl is free to participants, made possible with funding through the CSM Foundation.
"The CSM Foundation is able to fund outreach educational programs in STEM, the arts and other disciplines thanks to many generous local corporate and private sponsors in Southern Maryland. We are grateful for our sponsorship support of all CSM students," said CSM Vice President of Advancement Michelle Goodwin, executive director of the CSM Foundation.
The Southern Maryland Chain Chapter, The Links Inc., of which Linkins is the president, is one CSM Foundation donor organization that gives specifically to help fund the Engineer Like a Girl program.
"We're supportive of the program because we believe in the power of supporting strong, intelligent, enthusiastic, dedicated young women to persevere in the areas of science, technology, engineering, arts and math," Ms. Linkins said. "For the past 35 years, The Links Inc. has been committed to serving the community in Calvert, Charles, and St Mary's counties."
For information on CSM's Engineer Like a Girl program, call 301-934-7747 or visit CSM's website. To donate toward the program or other CSM Foundation efforts, visit the CSM Foundation website.
For more about the College of Southern Maryland, visit its Leader member page.