Artsfest '12: Another Success at Annmarie Garden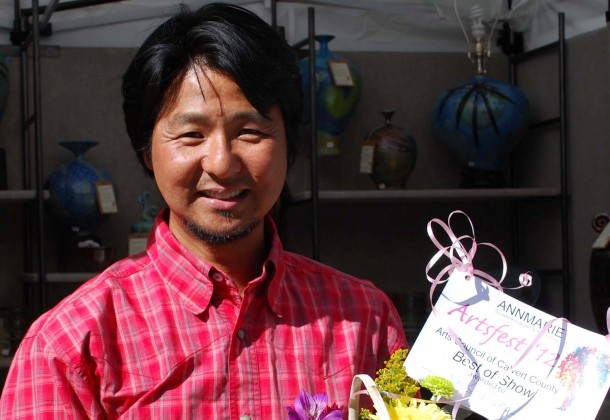 Posted by
Annmarie Sculpture Garden & Arts Center
Community Builder
SOLOMONS, MARYLAND – Annmarie Sculpture Garden & Arts Center (Annmarie Garden) hosted the Artsfest '12 Fine Arts Festival this weekend. Thank you to everyone in the community, both local and regional, for your support! The weather was absolutely incredible and attendance was phenomenal, with over 10,000 visitors over the entire weekend!
The Artsfest Bus, organized by Annmarie Garden and Thomas and Son Transport, was a success – for the first year running during Artsfest (from Annmarie Garden to Solomons), nearly 100 people used it on Saturday, Sept. 15, 2012! With a number of events to choose from over this particular weekend, Annmarie Garden thanks everyone who made the time to come to Artsfest '12!
Annmarie Garden also gives a special thank you to all of the sponsors of Artsfest '12, support from local businesses, organizations, and friends enables Annmarie Garden to host such a spectacular event! Over 150 artists visited the Solomons area for Artsfest, many of whom came for the first time and thoroughly enjoyed the event, the ambience of Annmarie Garden, and guests! Four awards are given to artists in the following categories, Artsfest Best of Show presented by Arts Council of Calvert County, Artsfest Merit Award by Dom and Sue Raino, Emerging Artist, Best Demonstration, and Best Display presented by Annmarie Garden. This year's winners include:
Artsfest Best of Show Award presented by Arts Council of Calvert County:  Mark Poole (ceramic)
Artsfest Merit Award presented by Dom and Sue Raino:  Lillian Forziat (painting)
Artsfest Emerging Artist Award presented by Annmarie Garden:  Larry Ringgold (sculpture)
Artsfest Best Demonstration Award presented by Annmarie Garden:  John Simpson (wood)
Artsfest Best Display Award presented by Annmarie Garden:  Ed Rupard (sculpture)
A number of new members joined Annmarie Garden during Artsfest! Annmarie Garden is looking forward to meeting new members and celebrating forthcoming events, including Halloween in the Garden and Garden in Lights!
An affiliate of the Smithsonian Institution, Annmarie is located in scenic Solomons, Maryland, on the Chesapeake Bay. The sculpture garden features a walking path that meanders through the forest, including more than thirty works on loan from the Smithsonian Institution and the National Gallery of Art. Annmarie Garden's Studio School offers creative classes for all ages and abilities taught by a talented faculty. Annmarie Garden is open 9 a.m. – 5 p.m. daily; the Arts Building and Gift Shop at Annmarie are open 10 a.m. – 5 p.m. daily. To learn more, visit www.annmariegarden.org.