Arctic Domain Topic of Defense Forum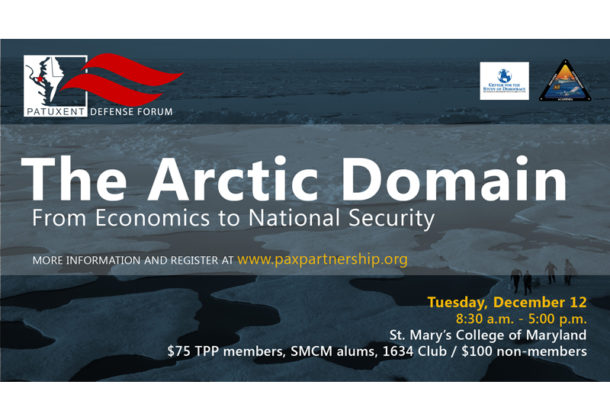 The Patuxent Partnership and the Center for the Study of Democracy at St. Mary's College of Maryland are coming together to present the 12th annual Patuxent Defense Forum on Tuesday, Dec. 12, 2017, from 8:30 am to 5 pm. The theme this year is "The Arctic Domain: From Economics to National Security." Check-in and coffee will open at 8:15 am. The keynote speaker and moderator for the event is retired US Air Force Maj. Gen. Randy "Church" Kee, Executive Director of the Arctic Domain Awareness Center, a DHS CoE, hosted by University of Alaska.
Maj. Gen. Kee served as the Director of Strategy and Policy, Headquarters US European Command in Stuttgart-Vaihingen, Germany, before he retired in December 2015.
Other speakers include:
Rear Adm. Jon White, USN (ret.), President and CEO at Consortium for Ocean Leadership
Dr. Michael Sfraga, Director, Polar Initiative, The Woodrow Wilson Center
Cara Condit, Executive Director, Center for Arctic Study and Policy, USCGA
Panels and topics will include:
Panel I: Balancing Economic Development and the Environment
Panel II: This Land is My Land, This Land is Whose Land – Territorial Challenges
Panel III: National Security in the Arctic (an "economy of force" theater)
The afternoon speaker will be Iina Peltonen, External Economic Relations, Embassy of Finland in Washington, DC.
Cost to attend is $75 for members of The Patuxent Partnership, alumni of St. Mary's College of Maryland, and the 1634 Club. Admission for non-members is $100. Register here.
The Patuxent Defense Forum addresses issues that are central to US defense and foreign affairs. During the daylong forum, panelists who represent policymakers, academics, and government officials, will discuss topics like climate change, responsible resource extraction, energy development, tourism, territorial claims and defense issues, rights of indigenous peoples, the US Arctic strategy, and international frameworks for cooperation.
The defense program meets the requirements for the government's Federal Training Program. Government employees can complete the SF-182, Authorization, Agreement and Certification of Training. Acquisition workforce attendees can earn 8 CL points.
The event will be held in the Cole Cinema of the Campus Center at St. Mary's College of Maryland at 47600 Mill Field Drive in St. Mary's City. A reception will follow at the nearby reconstructed State House.
About The Patuxent Partnership
TPP fosters collaboration and the sharing of knowledge and expertise across a diverse network that includes government, industry, and academia. TPP also supports STEM education and workforce development within the local community including hosting programs of interest to NAVAIR, NAWCAD, and the broader DoD community.
To learn more about The Patuxent Partnerships and its programs, visit its Leader member page.