Custom Antennae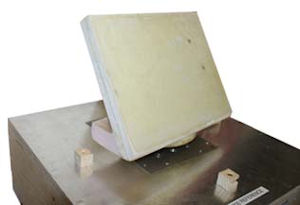 Global Technology and Management Resources, Inc.
Pax Leader
In today's mass-produced, disposable retail economy, it's tough to find just the right tool for the job. Tough, but not impossible. At least it isn't if you are looking for a military-grade antenna.
Global Technology and Management Resources, Inc. of Leonardtown has made its name selling customized, durable antennas to military and security clients since 2004 by gathering and consolidating design talent in a field that has been dwindling in recent years.
"In this day and age, getting exactly what you want is harder and harder," said GTMR's CEO Bill Battaglia. He said that off-the-shelf commercial parts are often not designed to the power usage, durability and weight specifications that the armed services need. "GTMR is in the antenna design business. … There are few people anymore who can understand antenna design."
Take one of GTMR's latest achievements – small rotating antennae suitable for the cramped cargo holds of an unmanned aircraft.
"We got it just at four pounds," Battaglia said. "It'll run off a 9-volt battery."
The trick was using a stepper motor, which does not continuously draw current to spin the antenna and saves battery life.
GTMR has contracted its services to the Naval Air Systems Command, the Naval Sea Systems Command and the Air Force and has done consulting for the Department of Homeland Security. GTMR handles the entire antenna creation process: drafting the product requirements, designing the product, building a prototype, testing the prototype, fielding the finished product and training clients to use it.
"It's all about the need," said GTMR President Jim Morton. "What does the customer need? We design the antenna to the customer's requirements."
Sometimes, the hardest part about that process can be getting the customer to decide and finalize what those requirements are.
"The hardest part is getting from the customers what they actually need," Morton said. "Once you know what they need, it's a math problem."
Morton acknowledges that his clients are "a niche market," but said that the niche is a very important one for the Navy and Air Force, as they upgrade their technologies for modern surveillance and electronic warfare.
The company has recently begun branching out, developing LED lighting systems for aircraft, unmanned aircraft instrument payloads, and testing equipment.