After Delay, Rocket Now on Way to ISS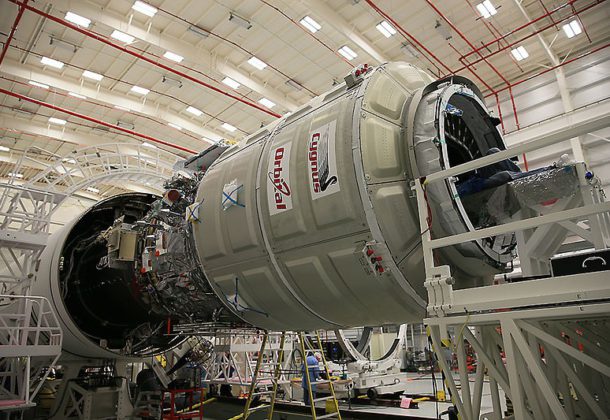 Morning Coffee is a robust blend of links to news around the Internet concerning the Naval Air Station Patuxent River

economic community. The opinions expressed here do not reflect opinions of the Leader's owners or staff.
After a 24-hour delay, the Orbital Antares rocket was launched from Wallops Island in the Chesapeake Bay Monday night, USA Today reports. It is carrying supplies to the International Space Station. The last time an Antares lifted off from Wallops Island, on Oct. 28, 2014, its flight was short-lived.
The Chinese Shenzou-II spacecraft was launched at 7:30 am Monday from the Gobi desert, The Washington Post reports. Two astronauts aim to dock with an orbiting space lab and remain aboard for 30 days, a crucial step in China's plans to operate its own space station by 2022.
President Obama recently set a goal of landing a manned mission on Mars by the 2030s, but space exploration advocates say they have no clue whether the next president is prepared to follow through on that goal, The Washington Times reports.
The US Navy has begun investigating a possible overnight Sunday missile attack from Yemen on a group of American warships in the Red Sea amid uncertainty about what transpired, The Associated Press reports.
The US military's role in the aid mission to Haiti is expected to wrap up in the next four days after delivering hundreds of thousands of pounds of food and medical supplies, the head of US Southern Command told Navy Times.
Israel and Japan most likely will get their first F-35 Joint Strike Fighters on schedule, Breaking Defense reports. The Air Force's F-35s should be flying by the end of the year, the F-35 Joint Program Office says.
The National Interest reports that the Department of Defense didn't have to opt for the F-35. In the 1990s, both Boeing and Lockheed Martin bid for the next big fighter contract, a plane that would serve in the Air Force, Navy, and Marine Corps, as well as grace the air forces of many US allies. Boeing served up the X-32; Lockheed offered the X-35.
Unmanned Warrior, a multinational military exercise is taking place off the coast of Scotland. Breaking Defense reports that the exercise is doing groundbreaking work on naval drones, including a number of "world firsts" in networking unmanned vehicles of different types — aerial drones, robot boats, and autonomous mini-subs — and from different nations including the US and the UK.
RADM Robert Girrier, director of unmanned warfare systems — OPNAV N99,  has overseen progress in the past year on key unmanned platforms and begun work on a common-control system to plan and execute missions in multiple domains. But, he told USNI News, perhaps the biggest accomplishment was finding the directorate's niche, nestled between the domain-based requirements officers and the warfighters in the fleet.
Japan might accelerate around $1 billion of planned spending to upgrade its ballistic missile defenses in the wake of rocket tests, Reuters reports, suggesting North Korea is close to fielding a more potent medium-range missile.
The USS Zumwalt has officially joined the US Navy's fleet. The technologically advanced destroyer was commissioned at a ceremony in Baltimore. "If Batman had a ship, it would be the USS Zumwalt," said ADM Harry B. Harris Jr., commander of the US Pacific Command.
A Japanese navy flag that flew on the battleship of the man who planned the attack on Pearl Harbor was donated to the National Park Service, Military Times reports. Dianne Hall of Salisbury, North Carolina, handed over the flag in a ceremony last week nearly 75 years after the Dec. 7, 1941, attack that launched the US into World War II. Hall's father was a US sailor who got the flag from the battleship Nagato after Japan surrendered.
Contracts:
Lockheed Martin Corp., Lockheed Martin Aeronautics Co., Fort Worth, Texas, is being awarded a $743,169,377 fixed-price-incentive, firm target and cost-plus-fixed-fee modification to the previously awarded low-rate initial production Lot 9 F-35 Lightening II Joint Strike Fighter advance acquisition contract (N00019-14-C-0002). This modification provides additional funding and will establish not-to-exceed (NTE) prices for diminishing manufacturing and material shortages redesign and development, estimated post production concurrency changes and country unique requirements. In addition, this modification will establish NTE prices for one F-35A aircraft and one F-35B aircraft for a non-US Department of Defense (DoD) participant in the F-35 program. Work will be performed in Fort Worth, Texas (30 percent); El Segundo, California (25 percent); Warton, United Kingdom (20 percent); Orlando, Florida (10 percent); Nashua, New Hampshire (5 percent); Nagoya, Japan (5 percent); and Baltimore, Maryland (5 percent), and is expected to be completed in December 2019. Fiscal 2015 aircraft procurement (Air Force, Marine Corps, and Navy); and non-US DoD participant and foreign military sales funds in the amount of $506,092,785 are being obligated on this award; $270,676,332 of which will expire at the end of the current fiscal year. This modification combines purchases for the Air Force $207,389,821 (27.9 percent), Navy $85,533,666 (11.5 percent), and Marine Corps $91,923,008 (12.4 percent), non-US DoD participants $332,940,791 (44.8 percent); and Foreign Military Sales $25,382,091 (3.4 percent). The Naval Air Systems Command, Patuxent River, Maryland, is the contracting activity.