Annual Service Honors Fallen Firefighters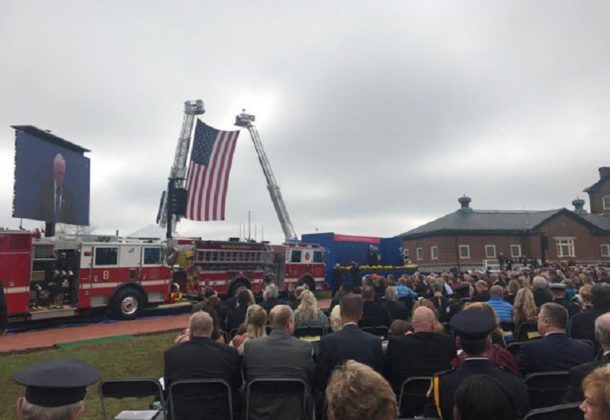 In early October, Congressman Steny H. Hoyer gave brief remarks at the 37th annual National Fallen Firefighters Memorial Service. This years' service recognized 103 fallen heroes, including three Marylanders – Benjamin Cohen, Charles "Rick" Gentilcore, and Christopher Allen Staley.
"Today we gathered in Emmitsburg to honor and give thanks for the sacrifices of the heroes we have lost," Congressman Hoyer (D-Md., 5th) said. Oct. 7. "I join in remembering Benjamin, Rick, Christopher, and others who were honored today. My thoughts and prayers are with the family and friends of these brave men and women, and I thank them for their service to our community, and to our nation.
"As we remember our fallen heroes, we must also commit to keeping our firefighters safe and supporting their families when the unimaginable happens," continued Congressman Hoyer. "As co-chair of the Congressional Fire Services Caucus, I've worked hard to ensure the families of the fallen have the resources they need. I have also worked to support grant programs that allow our fire departments to purchase the tools they need for our firefighters to do their jobs safely and effectively. We must do all that we can to support those who keep our neighborhoods safe, and I will continue to work in Congress to do so."
About the National Fallen Firefighters Memorial
The National Fallen Firefighters Memorial in Emmitsburg, Maryland, was conceived as a tribute to American fire service.
Since 1990, is has been the official national memorial to career and volunteer fallen firefighters. The memorial was constructed in 1981 on the campus of the National Fire Academy. Plaques listing the names of firefighters encircle the plaza.
When a firefighter dies on duty, local fire officials notify the US Fire Administration and a notice is posted on the memorial grounds. The flags over the memorial are flown at half-staff in honor of the fallen firefighter.
The memorial is open to the public throughout the year.
Follow Congressman Hoyer on Facebook and Twitter.
For more information about House Democratic Whip Steny H. Hoyer, visit his Leader member page.