Annmarie Hosts Event for Adults Only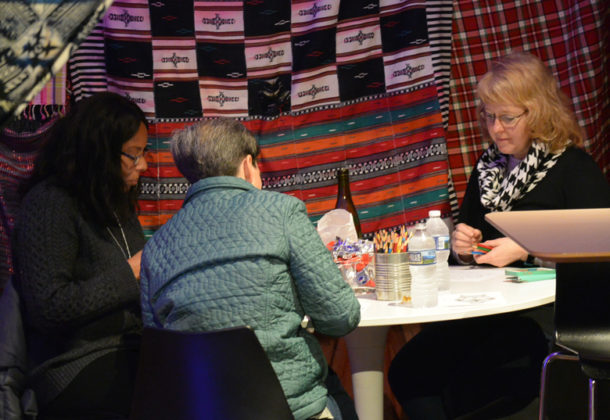 While Annmarie Sculpture Garden and Art Center is usually all about family activities, sometimes adults just want to hang out with other adults. On Friday, Jan. 19, 2018, Annmarie is planning an adults only coloring event from 5 to 8 pm.
The event will be held in Annmarie's giant communal coloring tent. It will be perfect for both the people who love to color and those who don't, because it is really about spending time in the fabulous indoor tent of many colors with other like-minded adults who enjoy friendship and appreciation of the arts.
The tent has plenty of couches, pillows, tables, chairs, and more, making it a cozy place to relax and hang out with friends. Adults at this special event can unwind with delicious appetizers provided by Blue Wind Gourmet plus live music and a drink from the cash bar.
For the adults who like to color, there will be lots of coloring books, pages, and supplies, or feel free to bring your favorites. The cash bar will include wine, beer, and soft drinks for purchase.
Admission to the event is $5 for non-members; free for members. Reservations are not required for this event. All participants must be 21 to enter. For more information about this adults only event or about Annmarie Garden, call 410-326-4640 or visit their website, listed above.
Annmarie Sculpture Garden and Art Center is an affiliate of the Smithsonian Institution. Located in scenic Solomons, Md., right on the Chesapeake Bay, the sculpture garden has a walking path meandering through the forest past permanent and loaned sculpture, some from the Smithsonian Institution and the National Gallery of Art.
To learn more about Annmarie Garden, visit their Leader Member Page.