Annmarie Garden Offers Classes for Adults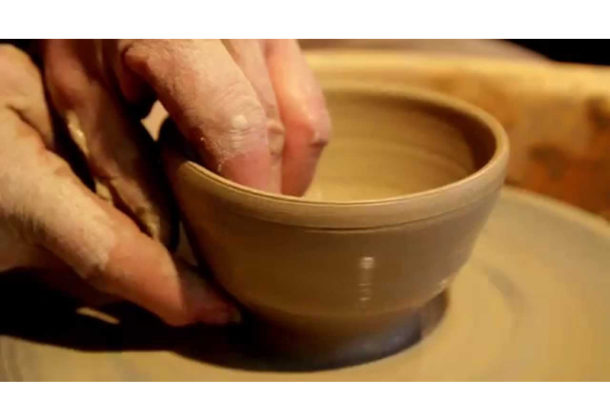 Whether you're interested in learning to make jewelry or you want to build your painting skills, Annmarie Sculpture Garden and Art Center has the perfect classes for adults in March.
Jewelry
On Sunday, March 5, instructor Tricia Hall will teach Intro to Metal Fusing Bracelets from 1 to 4 pm. Adult students will use a torch and various texturing techniques to learn how to turn a regular piece of .999 percent pure silver wire into beautiful jewelry. Students will learn to form links, alter their shape and texture, and then join the links to create a complete bracelet.
Stained Glass
On Saturday, March 11, instructor Leza Hepler will teach adult students the fundamentals behind stained glass art at Intro to Stained Glass from 10 am to 1 pm. Ms. Hepler will explore the copper foil technique. Students will learn to cut, shape, and grind glass, as well as foiling and soldering techniques to make a small sun-catcher for their windows. All materials are included in the price of the class.
Pottery, Clay
Students will learn to make homes for our feathered friends at Cabernet & Clay: Beautiful Birdhouses with instructor Sarah Houde in multiple Monday classes starting March 20 and ending April 3. The class will be from 6:30 to 9:30 pm. Students will roll out slabs of clay, texture and wrap it into a cylinder, then add a bottom and a roof. The class will then make and decorate a bird ornament to hang alongside. At the second class, students will decorate pieces with colorful glazes. Bring your favorite beverage and join the class. All students must be 21 or older.
Learn the basics of becoming a potter at Beginning Pottery on the Wednesdays between March 22 and April 26 from 6:30 to 9:30 pm. Ms. Houde will teach hand-building techniques including pinch, coil, and slab construction, before focusing on basic wheel thrown pottery. This class will concentrate on basic shapes of cylinders and bowls. The last class will be for glazing students' treasures.
Painting
If painting is your thing, join instructor Nancy Thompson for Springtime Watercolors: Dogwoods & Tulips on Tuesday, March 28, and Wednesday, March 29 from 10 am to 3:30 pm. Ms. Thompson will help you welcome spring by completing a beautiful, vivid watercolor painting of our favorite springtime blooms. Students will learn to mix and layer fresh colors to create luminous florals. The class will work from photos, and students are encouraged to bring pictures for inspiration. This is a great class for any level of experience, including beginners.
Kids' Classes, Too
The adults don't get to have all the fun!
Kids in grades three through six can come for the Weaving Winter Trees Workshop on Saturday, March 11, from 10 am to noon. Say goodbye to winter with an art project. Kids will learn the fundamentals of weaving with instructor Dollie Karolewski. They will paint a winter scene and then weave a fiber tree into it.
The same age group is invited for the Spring Batiks Workshops on Saturday, March 18, from 10 am to 1 pm. In this class, they will learn to create a vibrant springtime batik artwork on fabric with Ms. Karolewski. Using melted crayons and fabric paints, each child will come away with his or her own unique 12-by-12-inch artwork.
Call 410-326-4640 or visit Annmarie's website to register or get more details on the classes.
For more about Annmarie Sculpture Garden and Art Center, visit their Leader member page.