Annmarie Garden Hosts Special Events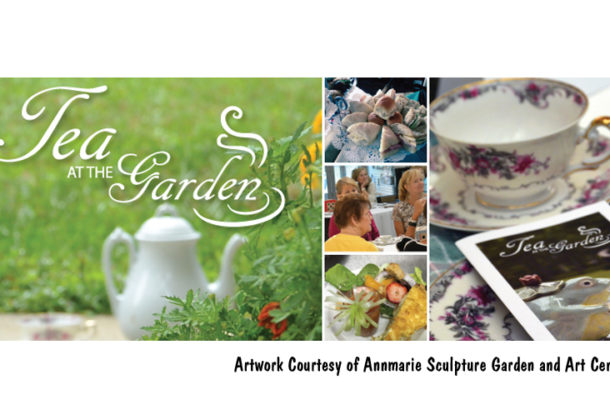 Annmarie Sculpture Garden and Art Center in Solomons will host two special events this month.
Annmarie After Hours from 5 to 8 pm Friday, March 10, 2017, will feature the opening of the Color & Light Society Show & Sale.
Make a date with Annmarie Garden to enjoy a casual adult evening of great art, wine and beer, light hors d'oeuvres by Dream Weaver Events & Catering, and live music by Chad Jones. Visit the gift shop for special Annmarie After Hours sales. Stop by Annmarie before or after dinner and make it a night on the town. No reservations are required.
The event is free for members; $5 for non-members. Must be 21 to attend.
Tea at the Garden will be presented from noon to 1:30 pm Wednesday, March 22.
Annmarie will host an afternoon tea in its Murray Arts Building. Guests will be surrounded by the beauty of the Garden and spectacular artwork on exhibit in its galleries. Learn about the history of teas and the part they play in our society. A tea display will feature an assortment of specialty teas along with delicious homemade scones, tea cookies, and pastries. Guests will be served a tasting plate of the quiche of the day and soup or salad.
Cost is $20 for members, $25 for non-members. RSVP to the website linked to above.
For more information on these special events, call 410-326-4640.
The Spectacular Skies exhibition is on display through July 23, 2017, at the Kay Daugherty Gallery in the Murray Arts Building.
The sight of the sky stirs within us a sense of wonder and a desire to dream. From one moment to the next, our perception of the sky is changing. In the course of a day, the shifting sky can transform from severe to serene. Vicious storms become vibrant vistas in mere minutes. Blushing sunsets give way to tranquil starlight and the mysterious moon. Spectacular Skies celebrates artwork that captures the vast expanses of the celestial sphere. Works explore the sky, stars, clouds, and atmospheric phenomena that evoke a thoughtful, expressive, and visually monumental presence.
About Annmarie Garden
An affiliate of the Smithsonian Institution, Annmarie Garden is located in scenic Solomons, MD. The sculpture garden features a walking path that meanders through the forest past permanent and loaned sculpture, including more than 35 works of art on loan from the Smithsonian Institution and the National Gallery of Art. Annmarie Garden also presents a variety of award-winning special events, gallery shows, and engaging public art programs.
Annmarie Garden's Studio School offers creative classes for all ages and abilities taught by a talented faculty. Annmarie Garden is conveniently located just off Route 2-4, on Dowell Road; open 9 am to 5 pm daily; the Murray Arts Building and Gift Shop are open 10 am to 5 pm daily.
Follow Annmarie Garden Sculpture Garden and Art Center on Facebook.
For more about Annmarie Sculpture Garden and Art Center, visit its Leader member page.