Anne Arundel Hall Replacement Forging Ahead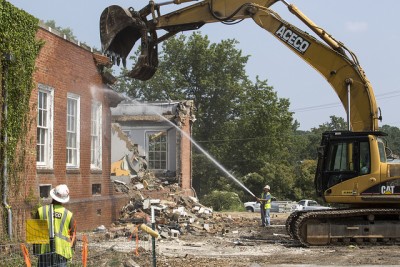 Posted by
St. Mary's College of Maryland
Bay Leader
Big changes in the scenery at St. Mary's College greeted students who moved in and began classes this week. The Anne Arundel Hall replacement project, which began over the summer, is in the demolition phase now.
After the walls are down, there will be a six-month break from construction while archaeologists investigate the building's foundation and subsurface features. According to the heritage report for the replacement of Anne Arundel Hall, "the College campus, which contains many archaeological sites, is located in a National Historic Landmark District. Accordingly, the identification, documentation, and protection of archaeologica lresources is a prime objective of all campus projects."
In addition to the various academic departments the new building will house, it will also serve as a joint-use building with Historic St. Mary's City and will provide a safe place to house, curate, and catalog artifacts and art.
During construction, which is a LEED-certified Gold project, all recyclable building materials are being saved and salvaged, including timber, copper, and other metals, as well as plastics and other materials used on the site.
To follow the demolition progress and to see other events and facets of life at SMCM, visit their flickr account.