Ambassador's Bio Reads Like a Tom Clancy Novel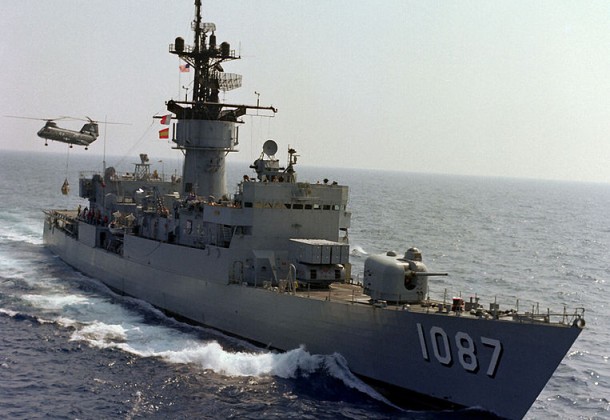 Posted by The Patuxent Partnership
Pax Leader II
"Richard Armitage came aboard the Kirk late at night, wearing a borrowed sport coat," according to NPR's introductory capsule biography. This 2010 program recounts his unorthodox commandeering of the USS Kirk in 1975.  His actions contributed to saving the South Vietnamese navy and 20,000 to 30,000 lives.
"Years later, Armitage would become second in command to Colin Powell in the Bush administration's State Department," the show's introduction continues. "But on that last day of April 1975, he was on a special assignment from the secretary of defense. He'd just turned 30 that week."
Among the adventures comprising the rest of his career he served as the ambassador to the newly independent states following the dissolution of the Soviet Union.  He filled key diplomatic positions as Presidential Special Negotiator for the Philippines Military Bases Agreement, and Special Mediator for Water in the Middle East. President George H.W. Bush sent him as a Special Emissary to Jordan's King Hussein during the 1991 Gulf War.
In the Pentagon from 1983 to 1989, Mr. Armitage served as assistant secretary of defense for international security affairs.
Mr. Armitage graduated in 1967 from the U.S. Naval Academy, where he was commissioned an ensign in the U.S. Navy. He served on a destroyer stationed on the Vietnam gun line and subsequently completed three combat tours in Vietnam. He has received numerous U.S. military decorations, as well as decorations from the governments of Thailand, the Republic of Korea, Bahrain, and Pakistan.
He recently received the U.S. Naval Academy Alumni Distinguished Graduate Award.
Ambassador Armitage will speak to a public forum sponsored by The Patuxent Partnership, Wednesday, April 17, at the Bay District Volunteer Fire Department Social Hall in Lexington Park, MD.
Check-in for this no-cost program will begin at 10 a.m. The presentation will begin at 10:30 a.m. and conclude at noon. The Bay District Volunteer Fire Department Social Hall is located at 46900 South Shangri-La Drive in Lexington Park. Advance registration at www.paxpartnership.org, via links under Upcoming Programs or the Calendar, is recommended.