Allied Air Strikes on IS Continue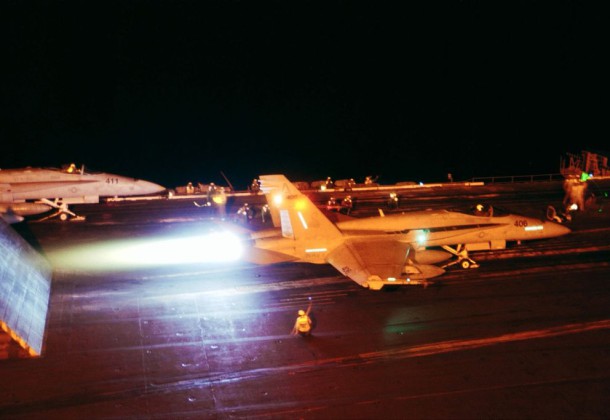 Morning Coffee is a robust blend of links to news around the internet concerning the Naval Air Station Patuxent River economic community. The opinions expressed here do not necessarily reflect

those of the Leader's owners or staff.
France conducted its first air strikes this weekend against the Islamic State group in Syria, reports AsiaOne. The Baltimore Sun captures, in photos, life aboard the USS Theodore Roosevelt aircraft carrier where  US fighter jets launch into Syria and Iraq to fight the Islamic State.
Hybrid warfare, where cyber attacks are as dangerous as bombs, is fully operational on the battlefield, and on display in a grand fashion in Ukraine, reports Defense Systems. Former Secretary of the Navy Richard Danzig advocates keeping some analog systems in place to monitor digital security, a safeguard against an infiltrated system also hiding the infiltration.
China's policies are creating havoc in the South China Sea. Vietnam, Malaysia, and the Philippines hold the key to a fix, reports The Diplomat, but presents the difficulties as a nine-irony history of the region's complications. China officials express no complicated version, the South China Sea belongs to China, reports Defense One.
As many as 1.3 million troops and 742,000 workers face furlough or working without pay as Congress approaches the Sept. 30 deadline to pass a budget, reports Defense One, but notes many of these federal employees already did this two years ago.
A Pentagon personnel chief spearheading a proposal to move most of the nearly 800,000 civilian employees out of civil service cites the cumbersomeness and age of the 66 civilian personnel systems, some 60 years old, as detriments to recruiting "top-tier talent," reports GovernmentExec. Brad Carson is quoted saying the changes are more "a strategic imperative" than an efficiency measure. DefSec Ash Carter called the Pentagon's current civilian personnel management "appalling" and in need of overhaul, but moving away from civil service was only one option under consideration. AOL.jobs extols workplace flexibility as a strong retention tool in tight personnel times.
NASA tests (with video) its under-ice robot rover. The goal of the robot is future exploration of frozen oceans on other planets, such as Europa on Jupiter, reports NextGov. NASA is also bringing data from space home, using research from projects begun in 2003, scientists are advising vulnerable communities on ways to combat problems arising from climate change, reports GovExec.
Contracts:   Northrop Grumman Systems Corp., San Diego, California, is being awarded an $8,988,148 cost-plus-fixed-fee modification to a previously awarded cost-plus-fixed-fee contract (N00019-15-C-0007) to provide sustainment engineering services support to the Broad Area Maritime Surveillance-Demonstrator (BAMS-D) program.  Services to be provided include the design, development, and installation of modifications to the BAMS-D communications system required to remain compliant with system and network performance requirements.   Work will be performed in Salt Lake City, Utah (50 percent); Patuxent River, Maryland (25 percent); and San Diego, California (25 percent), and is expected to be completed in December 2016.  Fiscal 2015 operations and maintenance (Navy overseas contingency operations) funding in the amount of $8,988,148 will be obligated at time of award; all of which will expire at the end of the current fiscal year.  The Naval Air Systems Command, Patuxent River, Maryland, is the contracting.   Sikorsky Aircraft Corp., Stratford, Connecticut, was awarded a $16,378,859 delivery order against a previously issued basic ordering agreement (N00019-14-G-0004) for five cabin interior kits, updates to the validation kits install and tooling in support of the VH-3D cabin interior and environmental control system redesign program to reduce the total gross weight of the aircraft and allow for greater lift capability.  Work will be performed in Stratford, Connecticut (90 percent); and Patuxent River, Maryland (10 percent), and is expected to be completed in March 2018.  Fiscal 2015 aircraft procurement (Navy) funds in the amount of $16,378,859 are being obligated on this award, none of which will expire at the end of the current fiscal year.  The Naval Air Systems Command, Patuxent River, Maryland, is the contracting activity. (Awarded Sept. 24, 2015)