Acquisition Report Finds F-35 Costs Rising Again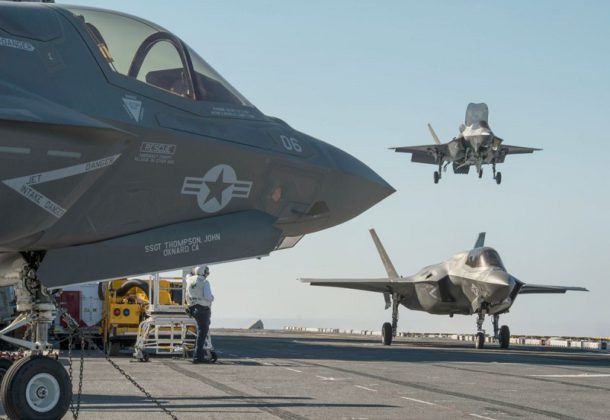 Morning Coffee is a robust blend of links to news around the Internet concerning the Naval Air Station Patuxent River

economic community. The opinions expressed here do not reflect opinions of the Leader's owners or staff.
Bloomberg reports another hike in F-35 costs, perhaps 7 percent to $406.5 billion, reversing several years of estimates declining to $379 billion from a previous high of $398.5 billion in early 2014, based upon the Selected Acquisition Report.
Defense News reports a major shift from its modular littoral combat ship as the Navy seeks industry input on a new multi-mission guided-missile frigate adapted from existing ship designs.
The destroyer Fitzgerald is heading to dry dock on Fleet Activities Yokosuka, Japan, for continued repairs and assessments of damage from its collision with a container ship last month, reports Navy Times.
Reuters reports on South Korea's intelligence agency findings, which suggest North Korea has not secured re-entry capabilities for its intercontinental ballistic missile program, disputing Pyongyang's account.
More than 95,000 people have visited the registration website for the
new online veterans shopping benefit
to launch Nov. 11, according to Military Times. All honorably discharged veterans will have access to the online exchanges. Last month, in a beta test,
12,000 veterans began shopping
at the online military exchanges, reports Military.com.
DW.com reports a partial ceasefire brokered by the US and Russia appears to be holding in southwestern Syria, as government and opposition delegations talk in Geneva during a seventh round of UN-sponsored talks.
Fifteen Marines and a Navy corpsman died in the military transport plane that crashed Monday in the Mississippi Delta while on a training flight. Investigators are trying to determine why the New York-based KC-130T crashed, reports CNN.
Former CIA officer accused of spying for China is denied bail, reports South China News. Prosecutors noted his access to classified material on his phone and argued he should remain jailed pending trial on espionage charges.
Defense One reports on what Mosul, the decade's largest battle, says about the future of war. Ben Watson outlines the innovations through interactive graphics, data, audio, video, and before-and-after satellite imagery.
For the first time, this year's Malabar exercise involves carriers from the navies of Japan, India, and the US as well as 14 other warships and submarines from the three nations participating in this year's exercise in the Bay of Bengal, reports The Diplomat.
Two US ships, about 800 troops, and a team of Navy SEALs will participate in the annual maritime training exercise in the Black Sea, the 17th rendition of Sea Breeze, reports Navy Times. Sixteen other nations are participating as well.
The Air Force Academy is conducting an internal investigation into its Sexual Assault Prevention and Response office, reports Air Force Times.
The V-22 Joint Program Office has a new leader. Marine Corps Col. Matthew Kelly took command of the Bell-Boeing aircraft program last week, reports rotorandwing.com. Col. Kelly replaces Marine Corps Col. Dan Robinson who had served as the program manager since 2013.
Contracts:
KBRwyle Technology Solutions, Columbia, Maryland, is being awarded a not-to-exceed $27,156,181 ceiling-priced, indefinite-delivery/indefinite-quantity contract for technical, engineering products, hardware and services in support of the Naval Air Warfare Center Aircraft Division's Air Traffic Control and Landing Systems Branch (AD-4.11.7.3). Support to be provided includes the integration, test and evaluation, installation, maintenance, configuration, and management of Air Traffic Control Systems Division equipment for the Fleet Area Control and Surveillance Facility Air Control Tracking System. Work will be performed in St. Inigoes, Maryland (75 percent); and Columbia, Maryland (25 percent), and is expected to be completed in August 2022.  No funds are being obligated at the time of award. This contract was competitively procured via an electronic request for proposals, with one offer received.  The Naval Air Warfare Center Aircraft Division, Patuxent River, Maryland, is the contracting activity (N00421-17-D-0042).
Lockheed Martin Mission Systems and Training, Moorestown, New Jersey, is being awarded a $41,765,876 cost-plus-fixed fee modification under a previously awarded contract (N00024-16-C-5103) to exercise an option for AEGIS foreign military sales lifetime support services consisting of computer program maintenance in support of the Royal Australian Navy Hobart class ships. Work will be performed in Moorestown, New Jersey (92.5 percent); Adelaide, Australia (4.8 percent); Washington, District of Columbia (2.4 percent); and Sydney, Australia (0.3 percent), and is expected to be completed by November 2019. Foreign military sales funding in the amount of $5,817,526 will be obligated at time of award and will not expire at the end of the current fiscal year. The Naval Sea Systems Command, Washington, District of Columbia, is the contracting activity.
Ernst and Young, Washington, District of Columbia, is being awarded a maximum $149,444,015 labor-hour contract for financial statement audit services for the Navy. Work will be performed in Alexandria, Virginia, with an expected completion date of Dec. 31, 2017. The contract has a five-month base period with four individual one-year option periods. This contract is the result of a competitive acquisition for which two quotes were received. Fiscal 2017 operations and maintenance (Navy) funds in the amount of $10,200,552 are being obligated at the time of the award. The Defense Finance and Accounting Service, Contract Services Directorate, Columbus, Ohio, is the contracting activity (HQ0423-17-F-0101).