Wanted: Private Pilots for Practice Dogfights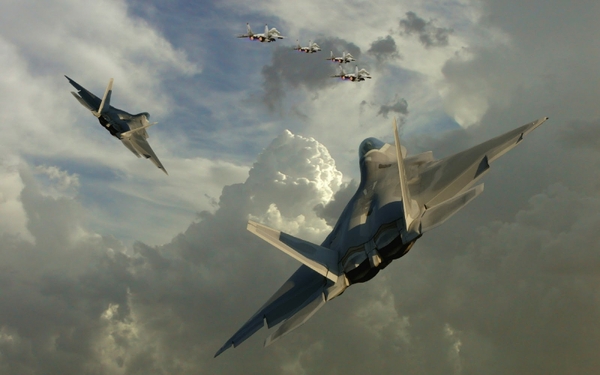 Morning Coffee is a robust blend of links to news around the Internet concerning the Naval Air Station Patuxent River

economic community. The opinions expressed here do not reflect opinions of the Leader's owners or staff.
Facing a shortage of pilots, dollars, and training time, the Pentagon wants private pilots and fighter jets to play the bad guys against military pilots during dogfighting and other drills, Defense One reports. While contractors have long been used in various kinds of military training, top Defense Department officials believe this new role could free up uniformed pilots to fly in combat squadrons. "That is something that is actively under consideration," Air Force Secretary Deborah Lee James.
Community members and an environmental group sue the US Navy, DoD, and the secretary of defense over a plan to turn two Pacific islands into live-fire testing sites, The Associated Press reports. The plan calls for using the islands of Tinian and Pagan in the Commonwealth of the Northern Mariana Islands for military war games. The training would prevent Pagan's native people from returning to their home island, which was evacuated 35 years ago after a volcanic eruption, and would disrupt communities on Tinian, according to Earthjustice attorneys, who are representing complainants.
The US Navy does not appear to have a coherent plan for how its carrier-based tactical aircraft will operate in the post-2030 threat environment, says The National Interest. The blog says its sources believe that even the Navy's planned F/A-XX will not solve the service's challenges in operating in an anti-access/area — A2/AD — denial environment defended by advanced integrated air defenses and a new generation of enemy warplanes. The National Interest reports Navy chiefs are skeptical of the costly F-35C, which is the only aircraft that might meet most of its requirements during that era.
British defense exports fell nearly 10 percent in 2015 despite the market for global arms exports overall rising significantly, Defense News reports on figures released by the UK governments. Sales fell 9.4 percent from 2014 British defense export sales of £8.5 billion, or $11.2 billion, a figure which was itself a fall from 2013 figures, then bolstered by Leonardo Helicopter sales to Norway and South Korea.
US Special Operations Command has inked a $166 million contract with Lockheed Martin to provide dry combat submersibles designed to transport operators to their mission sites underwater, Defense Tech reports. The dry submersibles, slated for use in "harsh maritime environments," will allow operators to get closer to their destinations and to be more effective when they get there, company officials said.
The Air Force expects to declare initial operational capability for its variant of the F-35 Joint Strike Fighter Aug. 2, 2016, says Inside Defense . The service's target IOC window opens Aug. 1 and extends through December. After speculation that the milestone would fall later in the year due to delays in delivery of the Autonomic Logistics Information System, Air Force officials have become increasingly confident that the service would in fact declare IOC in August.
An unknown number of troops and veterans have been locked out of phone service as the result of the financial troubles of a mobile phone service company that caters to the military, Navy Times reports. The company Defense Mobile, is in the process of restructuring, said its chief executive officer, Anthony Montoya, who recently took the helm.
The Federal Reserve left interest rates unchanged while saying risks to the US economy have subsided and the labor market is getting tighter. Bloomberg News reports the news suggests conditions are getting more favorable for an increase in borrowing costs. Data since the Fed's June meeting indicate "that the labor market strengthened and that economic activity has been expanding at a moderate rate," the Fed said.
Republican presidential nominee Donald Trump has called on Russia to hack Democratic presidential nominee Hillary Clinton's email account, The New York Times reports. "Russia, if you're listening, I hope you're able to find the 30,000 emails that are missing," Mr. Trump said during a news conference Wednesday. The Times characterized this as "an extraordinary moment at a time when Russia is being accused of meddling in the United States' presidential election." Mr. Trump's comments came amid questions about the hacking of the Democratic National Committee's computer servers, thought by American intelligence agencies to be the work of the Russian government.