Science, Math Teachers Honored by SMECO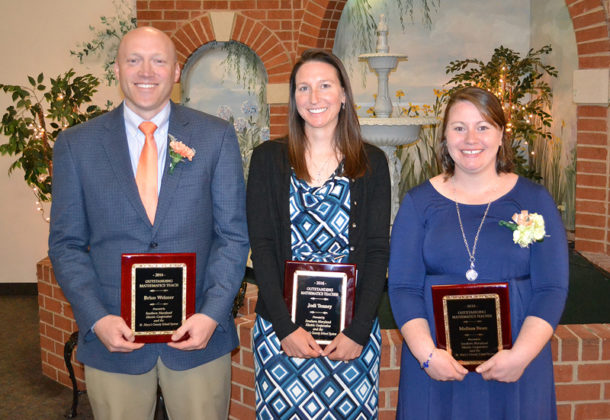 SMECO's Outstanding Mathematics Teachers of the Year for St. Mary's County. From left are Brian Weisner of Great Mills High School, Jodi Tenney of Leonardtown Middle School, and Melissa Bean of Benjamin Banneker Elementary School.
Math and science educators who are making a difference in the lives of children have been honored by Southern Maryland Electric Cooperative.
SMECO honored 17 teachers in the Calvert, Charles, and St. Mary's counties school systems with Outstanding Teacher awards for their leadership in the fields of math and science. Nine math teachers and eight science teachers were chosen for their outstanding creativity, rapport with students, professionalism, innovative teaching methods and enthusiasm for teaching. Every teacher honored received a plaque and a cash award at a dinner held recently in their honor. This annual event has seen more than 330 teachers honored in the past 25 years.
"Our gifted honorees understand that their job is about more than teaching mathematics and science," said Austin J. Slater Jr., SMECO president and CEO. "It's about teaching things like character, imagination, and resilience. They display a commitment to classroom excellence and are helping to ensure that Southern Maryland schools prepare the next generation of leaders and innovators." He added, "Good teachers do more than fill smart boards with numbers and diagrams. They fill young minds with virtues and values. They teach our kids how to cooperate and overcome obstacles. They teach skills that are important not only to employers and the economy, but also important to our future."
David Kung, Ph.D., professor of mathematics at St. Mary's College of Maryland, was the keynote speaker for the awards dinner. Dr. Kung invited those who attended the dinner to share personal stories about teaching. He encouraged them to focus first on what their own teachers gave them, and then on what they have given their students, beyond teaching math and science.
"Imagine reading a real estate listing and buying a house merely on the square footage without visiting it. That's the mistake we often make with education. We focus on the things that are easily measurable," Dr. Kung said. "I'd like to see us achieve a balance. Let's value the things that we do for students that aren't on the year-end tests, like creativity, curiosity, and a sense of self-worth." Dr. Kung's first Great Courses lecture, How Music and Mathematics Relate, quickly became a best-seller. His follow-up series, Mind-Bending Math: Riddles and Paradoxes, was released in August 2015. Both can be found at davekung.com.
The St. Mary's County Outstanding Math Teachers were Melissa Bean, Benjamin Banneker Elementary School; Jodi Tenney, Leonardtown Middle School; and Brian Weisner, Great Mills High School.
The Calvert County teachers are Michelle Bell, Patuxent High School; Wenique Brooks, St. Leonard Elementary School; and Jennifer Murphy, Mill Creek Middle School.
Charles County teachers are Adam Frisbee, Thomas Stone High School; Linda Tavares, Arthur Middleton Elementary School; and David Wood, Milton M. Somers Middle School.
The St. Mary's County science teachers who were honored are Rebecca Wait, Chopticon High School and Christi Wenk, Benjamin Banneker Elementary School.
Calvert County's science teachers are Lorraine Dunigan, Patuxent High School; Deborah Heyes, Huntingtown High School; and Kelli Short, Barstow Elementary School.
Charles County science teachers are Amy Arnold, Milton M. Somers Middle School; Margo Barbone, Mount Hope/Nanjemoy Elementary School; and Michelle Schoenbauer, La Plata High School.
Enhancing the quality of life in Southern Maryland is part of SMECO's mission. The cooperative sponsors events for students to encourage them to excel in math, science, and technology. These events include the local MATHCOUNTS competition, the annual Southern Maryland Regional Computer Bowl, and the Elementary Math Challenge. So far this year, more than 1,000 students in SMECO's service area have participated in these events.
To learn more about SMECO please visit their Leader Member Page.