Drones to Carriers Slowed by Organization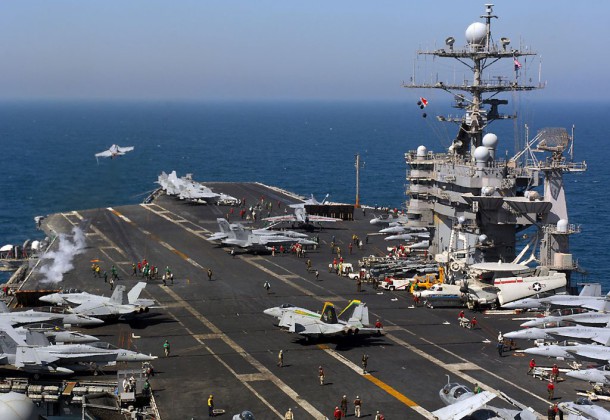 Morning Coffee is a robust blend of links to news around the internet concerning the Naval Air Station Patuxent River economic community. The opinions expressed here do not necessarily reflect

those of the Leader's owners or staff.
Congressional and Navy leaders consider how to bring carriers into the unmanned arena, reports Navy Times. VADM David Dunaway is quoted asking and answering, "Can we bring an unmanned vehicle to the carrier much faster? Technically? Absolutely. Organizationally, it appears to be impossible."
Defense Systems reports on the four-point US-China cybersecurity plan and skepticism on it stabilizing the cyber-domain.
McClatchy DC reports on four (of many) untouchable items in the federal budget: PBS and NPR, Planned Parenthood, Social Security, and the JSF.
Fears of neck-breaking outcomes from the F-35's ejection seat reach congress, reports Defense News, and prompt legislative calls for additional oversight.
President Obama's appointee to take over the Inspector General office at Veterans Affairs, Michael J. Missal, has experience conducting internal investigations for firms in financial services, government contracting, and technology, reports FCW.
Employees of the Naval Surface Warfare Center Dahlgren Division protesting a 2013 civilian furlough  have lost another round in court, reports FedSmith.
Politico details the 12-nation, landmark free trade agreement signed by the US, Japan and 10 Pacific Rim that is raising hopes and hackles.
GSA will release the Enterprise Infrastructure Solutions RFP Oct. 16, seeking a 15-year, $50 billion, next-generation telecommunications contract, reports FCW. Cybersecurity sections were established with the Department of Homeland Security.
The Navy takes on cybersecurity directly, establishing a 40-person office to evaluate investments and policies and assure the "requirements right at the front end," FCW quotes  Vice Adm. Ted Branch, deputy chief of naval operations for information dominance.
The Wall Street Journal reports NASA has honed contenders for commercial space cargo delivery contracts to four companies, Boeing, Orbital ATK, Sierra Nevada, and SpaceX, dropping Lockheed out of the competition.
Lockheed is looking into merging its $4 billion IT and services business with another defense contractor, Reuters reports talks have involved CACI , SAIC, BAH, and Leidos Holdings.
Contracts: Aviation Systems Engineering Co., Lexington Park, Maryland, is being awarded $8,392,993 for modification P00011 under a previously awarded indefinite-delivery/indefinite-quantity, cost-plus-fixed-fee, firm-fixed-price orders contract (N00189-11-D-Z040) to exercise the fourth option for technical, analytical, administrative and material support services to Air Test and Evaluation Squadron One in support of the test mission of Commander, Operational Test and Evaluation Force.  With this option exercised, it will bring the contract value to $40,096,609.  Work will be performed in Patuxent River, Maryland, and is expected to be completed October 2016.  No contract funds will be obligated with the exercise of the option, and will not expire at the end of the current fiscal year.  Funding will be provided on individual task orders issued against the contract during the period of the option.  This contract was competitively procured with the solicitation posted to the Navy Electronic Commerce Online website with two offers received.  Naval Supply Systems Command Fleet Logistics Center Norfolk, Contracting Department, Philadelphia Office, Pennsylvania, is the contracting activity.