Amazon UAS Patent Reveals 'Bring it to Me'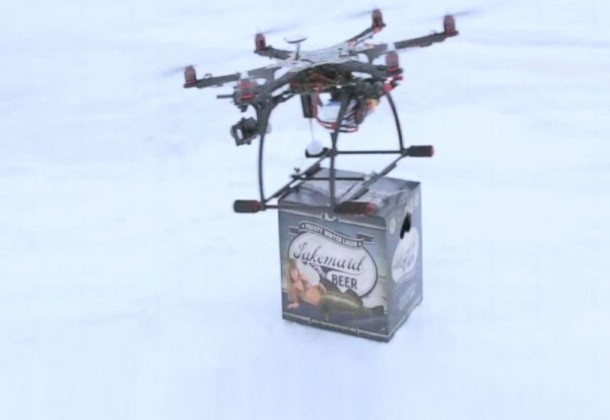 Morning Coffee is a robust blend of links to news around the internet concerning the Naval Air Station Patuxent River economic community. The opinions expressed here do not necessarily reflect those of the Leader's owners or staff.

Imagine ordering a snack from your boat far from land. Amazon is ready, Gizmag reports on the "Bring it to Me" service and other details of Amazon's UAS delivery patent.
The first six months following discharge is critical for injured veterans to attain employment. NAVAIR News cites retired U.S. Marine Corps Master Sgt. Ken Cadena, now an operations officer in the H-60 Multi-Mission Helicopters program office. Mr. Cadena will describe his transition at next week's 2015 Wounded Warrior and Veteran Hiring and Support Conference.
Concerned the Republican budget bill is a "road to nowhere" for the Pentagon, DefSec Ashton Carter is making the rounds of Congress, pushing for a multi-year, bipartisan budget plan instead, reports Breaking Defense.
Gulf nation leaders want cybersecurity cooperation on the agenda of Thursday's summit at Camp David, reports The Hill.
The Hill reports House Homeland Security Chairman Michael McCaul (R-TX) comments on Fox News Sunday. He said the Internet increases the risk of terrorist attacks and criticizd President Obama for easing terrorists ability to operate in the US. Military bases were ordered late last week to their highest security level in four years. The Christian Scientist Monitor quotes a Pentagon spokesman calling the threat level low to low-middle.
Military.com has video inside and out of a F-35 Lightning fighter jet going through its amazing paces.Video of a C-5 Galaxy test drop a Minuteman Inter Continental Ballistic Missile, at The Aviationist.
Defense System reports, Lockheed progressing on schedule to launch a maneuverable space vehicle in 2017, with the goal of launching a fleet of 32 Air Force GPS III satellites.
If you missed the WWII planes' flyover of Washington DC honoring the 70th anniversary of VE day last week, here's the rundown on the planes that participated, from Air Space Magazine.