Navy Staffing-Up, Rest of Military Catching-Up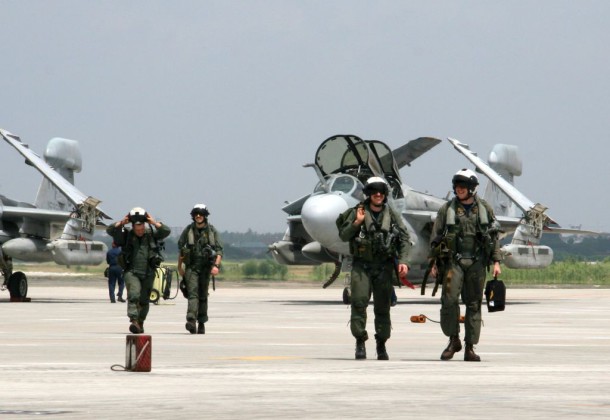 Morning Coffee is a robust blend of links to news around the internet concerning the Naval Air Station Patuxent River economic community. The opinions expressed here do not necessarily reflect those of the Leader's owners or staff.

Navy ranks will continue to grow for the next five years while the Army and Air Force are having to re-calibrate their force reduction plans to meet readiness demands, reports Military.com. Meanwhile the Chief of Naval Personnel, VADM William Moran seeks to update the Navy manpower policies, reports the Council on Foreign Relations, addressing a system created in 1947 to serve a draft military, which does not match the needs of today's all-volunteer force.
Following a harsh assessment of the structure and execution of the Pentagon's move to cloud computing, NextGov reports the next area the DoD Inspector General intends to investigate is the cost benefit of the military's move to the cloud. Experts at a Patuxent Partnership forum earlier this year warned the Pax River community that it would not be economies that would drive the move to the cloud, but effectiveness.
FCW reports, current problems with staffing shortfalls creating federal government procurement delays were predicted in 1994.
Breaking Defense assesses the different strengths and missions of the Littoral Combat Ships and destroyers, both working in the Java Sea and involved with the search and retrieval efforts at the site of the AirAsia plane crash.
Some post office closures, re-scheduled to Jan. 2015 in a US Postal Service consolidation plan, are now delayed to April, reports GovExec.
The CIA is in the sights of Sen. Dianne Feinstein, D-CA, former chair of the Intelligence Committee. She plans to introduce legislation to close "loopholes" in the laws banning "enhanced interrogation" techniques and she gave President Obama 11 ways to improve oversight of the spy agency without congressional action, reports The Hill.
Social media links a WWII soldier's recorded message back home to his family, 70 years later, reports WCSH of Portland, ME. Uniting the soldier's voice with his family was the result of tenacity on the part of a Radio Shack owner who collects old records.