2018 Hospice Ornament Released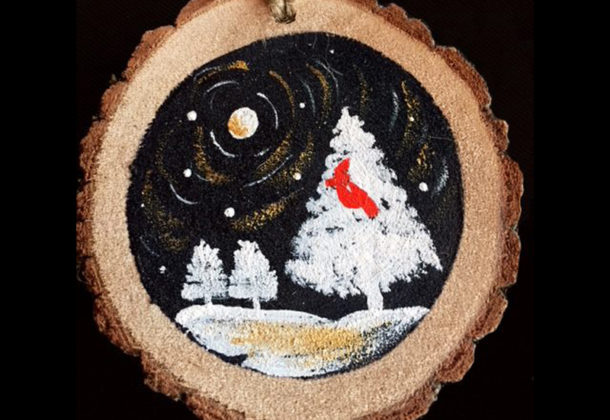 With support from MedStar St. Mary's Hospital in Leonardtown, Hospice of St. Mary's has released its newest Christmas ornament. The 2018 Hospice Ornament features a beautiful, bright red cardinal.
Folklore says that when a cardinal appears close to us, it is the spirit of a deceased loved one paying us a visit. The Hospice Ornament features this special bird beautifully hand-painted on natural wood within a snowy scene.
These incredible, one-of-a-kind ornaments are available for just $20 each, and the proceeds benefiting Hospice of St. Mary's. They can be found for sale now through the holiday season at local St. Mary's County businesses such as Cecil's Country Store in Great Mills, Century 21 in Lexington Park, and St. Inie's Coffee in Lexington Park.
Ornaments can also be purchased at the Hospice House in Callaway. The office is open every Monday to Friday 8 am to 4:30 pm. It's a good idea to call ahead to make sure there are ornaments available at the office for sale. The number is 301-994-3023.
About Hospice of St. Mary's
Hospice of St. Mary's is a non-profit organization which offers physical, psychological, spiritual care, and comfort to people who are terminally ill, as well as their families. Hospice also provides grief support to families and members of the community who have experienced a loss.
Hospice of St. Mary's was founded in 1981 started by a group of community volunteers, working under the direction of Dr. Patrick Jarboe. Throughout the decades, the organization continues to provide high quality and compassionate end-of-life care for terminally ill patients and their families.
About MedStar St. Mary's Hospital
MedStar St. Mary's Hospital is a full-service community hospital, delivering state-of-the-art emergency, acute inpatient and outpatient care in Leonardtown, Maryland. Nestled in a waterside community, MedStar St. Mary's provides advanced technology with a dedication to excellence in all services provided. The not-for-profit hospital has been named among the nation's Top 100 Hospitals and is an eight time recipient of the prestigious Delmarva Medicare Excellence Award. The staff is committed to providing quality and compassionate medical care for all patients by coupling innovation with an outstanding team of medical staff members, associates, and volunteers.
For more information and one-click access to a full list of resources available at MedStar St. Mary's Hospital, visit their Leader Page.