1st Missile Strike Missed UFO @ Lake Huron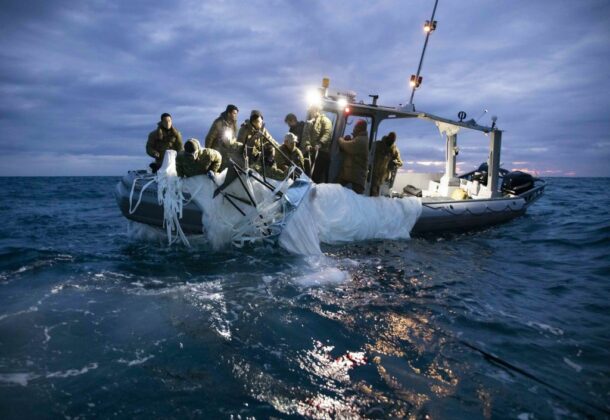 Morning Coffee is a robust blend of links to news around the internet concerning the Naval Air Station Patuxent River

economic community. The opinions expressed here do not reflect opinions of the Leader's owners or staff.
The first US missile fired Sunday at the unidentified aerial object over Lake Huron missed the target and "landed harmlessly" in the water before a second one successfully hit, JCS Chair GEN Mark Milley said Tuesday, reports Air Force Times. Acknowledgment of the errant strike comes amid questioning about the risk of shooting down aerial objects that officials say pose no threat.
The Lake Huron object was an octagonal structure with strings hanging off but no discernible payload, ABC7 reported on the Sunday downing. There was no indication of surveillance capabilities.
GEN Milley said the first missile fired was the only miss after a spy balloon and three objects were shot down in the past week and a half. He dismissed concerns that the errant missile launched over the US caused any danger to the public. The second AIM-9X Sidewinder missile fired by the jet blew up the object, reports Military.com.
It seems like "weather balloons" are a recent trend, but not so, says Military.com. Governments, militaries, and even private organizations and citizens have been using the floating menace for a long time. Twice a day, every day of the year, weather balloons are released simultaneously from almost 900 locations worldwide, according to the National Weather Service which releases 92 in the US and its territories. The balloon flights last for around 2 hours, can drift as far as 125 miles away, and rise up to over 100,000 feet (about 20 miles) in the atmosphere.
Public Citizen announced this week it has sent a letter to President Joe Biden, along with 59 groups as signatories, opposed to any further increases to DoD's budget. "We reject pouring our dollars into outdated ships, malfunctioning planes, or record-breaking contractor CEO salaries while everyday people remain hungry, unhoused, in need of adequate health care, or seeking a living wage," reads the letter. The letter follows reports that Biden may propose the largest military budget in history for FY 24, fast approaching $1 trillion, reported by Politico.
The longest-serving president in Seafarers International Union history Michael Sacco has retired at the age of 86, reports gCaptain. SIU operates the Paul Hall Center in Piney Point. Sacco's retirement was announced Monday, and SIU Secretary-Treasurer David Heindel will become the union's fourth president, effective February 14.
FCW reports the number of small businesses receiving federal contracts continued its sharp, years-long decline in 2022 despite a record-breaking $159 billion awarded to small businesses throughout the year. The 2022 contracts represented less than half the number of small businesses contracts received in 2012.
After a year of brutal conflict, Russia has failed to subjugate Ukraine or shatter the NATO alliance. JCS Chair GEN Milley said, "In short: Russia has lost." But that doesn't end the war. Task & Purpose reports history shows conflicts continue long after one side has lost.
NATO will implement new stockpile guidelines to boost its own arsenals while continuing to fill Kyiv's, reports Defense News. NATO SEC GEN Jens Stoltenberg said, "The current rate of ammunition consumption is higher, bigger than the current rate of production." Waiting time for large-caliber ammunition has increased from 12 to 28 months.
US forces are focusing on training Ukrainian troops to use less ammo, reports Politico, as western nations grow concerned over their ability to quickly replenish stocks.
Americans in Russia or planning to travel there may be drafted into the army, the US Embassy in Russia warned Monday. Stars and Stripes reports that the new travel advisory states that the Kremlin could subject American citizens with dual Russian citizenship to "mobilization" or "prevent their departure from Russia and/or conscript them."
Defense News reports the Air Force is studying whether drone wingmen flying alongside piloted fighter aircraft could be controlled by operators in nearby battle management aircraft or refueling tankers, according to Chief of Staff GEN CQ Brown.
Artificial intelligence flew an aircraft based on an F-16 fighter jet for more than 17 hours, according to a press release from Lockheed Martin Aeronautics calling it the first time that AI was used to fly a tactical aircraft.
The US State Department has approved the possible $250 million sale of planning and support services to Kuwait for the Gulf Arab country's military medical command, reports Reuters. The principal contractor will be healthcare IT company Cerner Corporation, which is owned by tech firm Oracle Corp.
The Navy spent approximately $1.8 million to air a commercial in 16 markets during Super Bowl Sunday, reports USNI. The "Never" commercial featuring sailors talking about how they did not expect to have a career in the sea service is part of the "Forged By the Sea" ad campaign targeting the Gen-Z population that kicked off in October. Until the Super Bowl ad, the commercials were typically pushed on social media and streaming platforms.
An unexploded artillery shell was discovered at Gettysburg National Military Park on February 8, host to one of the bloodiest but most decisive battles of the Civil War, reports Military Times. Explosive Ordnance Disposal soldiers with the Army's 55th Ordnance Company safely removed and destroyed the device, determined to be a 3-inch Burton case shot, according to an official statement.
USNI fleet tracker weekly reports the approximate positions of the US Navy's deployed carrier strike groups and amphibious ready groups throughout the world. Here is the February 13, 2023, Fleet and Marine Tracker.
The military and manufacturers of the F-35 Joint Strike Fighter have found a potential solution to the engine troubles that halted deliveries of the jet for nearly two months, Defense News reports.
Sikorsky, a Lockheed Martin company, delivered two CH-53K helicopters to the US Marine Corps in the final quarter of 2022, reports Naval News. These CH-53K heavy lift helicopters join the seven already in operation at Marine Corps Air Station New River in Jacksonville, NC.
Contracts:
Analytic Services Inc. (ANSER), Falls Church, Virginia, is awarded a modification (P00016) for an option year valued at $13,958,382 on a firm-fixed-price, labor-hour, time-and-materials contract (HQ003420F0060) to provide administrative, management, and general consulting services to the Office of the Director of Administration & Management (ODA&M), Director of Administration and Organizational Policy (DA&OP). Fiscal 2023 operations and maintenance funds in the amount of $13,958,382 are being obligated at the time of award. The purpose of this action is to exercise Option Period 3 of the contract, which currently has a period of performance from Feb. 16, 2023, through Feb. 15, 2024. The work will be performed at U.S. government facilities in the National Capital Region. The estimated contract completion date is Feb. 15, 2025. Washington Headquarters Services, Arlington, Virginia, is the contracting activity.
Technica Corp., Sterling, Virginia, has been awarded a $19,368,923 cost-plus-fixed-fee modification for exercising the third option period, Feb. 15, 2023 – Feb. 14, 2024, to the contract providing weapon system engineering and maintenance services to include incremental software version development and installation; security patch installations; preventative maintenance; troubleshooting; and responsive tiered support for the Cyberspace Vulnerability Assessment/Hunter (CVA/H) weapon system. Work will be performed at Joint Base San Antonio-Chapman Annex, Texas; Scott Air Force Base, Illinois; Joint Base San Antonio-Lackland, Texas; Des Moines Air National Guard Base, Illinois; Joint Base McGuire-Dix-Lakehurst, New Jersey; Joint Base Lewis-McChord, Washington; Camp Murray, Washington; and Horsham Air Guard Station, Pennsylvania, and is expected to be completed by Aug. 14, 2025. This contract was a competitive acquisition and seven offers were received. Fiscal 2023 research, development, test and evaluation; and operation and maintenance in the amount of $19,368,923 are being obligated at the time of award. The Air Force Life Cycle Management Center, Cryptologic and Cyber Systems Division, Joint-Base San Antonio-Lackland, San Antonio, Texas, is the contracting activity (FA8732-14-D-0015, Task Order FA8307-19-F-0098). (Awarded Feb. 14, 2023)
Colonna's Shipyard Inc., Norfolk, Virginia (N00024-22-C-4319), is awarded a not-to-exceed $7,950,857 firm-fixed-price, undefinitized contract action under previously awarded contract N00024-22-C-4319. This modification incorporates Naval Sea Systems Command Fiscal 2022 category II Navy standard items for completion of the Shippingport Docking Service Craft Overhaul availability. Work will be performed in Norfolk, Virginia, and is expected to be completed by June 2023. Fiscal 2023 operations and maintenance (Navy) funds in the amount of $7,950,857 will be obligated at time of award and will expire at the end of the current fiscal year. Mid-Atlantic Regional Maintenance Center (MARMC), Norfolk, Virginia, is the contracting activity. 
Armed Forces Services Corp., doing business as Magellan Federal, Arlington, Virginia, was awarded a six- month bridge extension modification (P00023) valued at $10,944,982, for the firm-fixed-price contract HT0011-19-C-0006 for Recovery Coordination Program services. The Recovery Coordination Program provides professional services in the areas of strategic, programmatic, and operations to support the full implementation of the Department's Recovery Coordination Program and specifically to provide support to the Department's Recovery Care Coordinator program; the Recovery Coordination Program-Support Solution; Education and Employment Initiative; Military Adaptive Sports Program; Operation Warfighter Internships; the National Resource Directory, and Warrior Games. Services will be performed at various locations in the continental US, with an estimated completion date (assuming the government exercises all available contract options) of July 16, 2023. Fiscal 2023 operation and maintenance funds in the amount of $2,736,865 are obligated for the modification to establish and fully fund the first two months of the six-month bridge extension contract line items 1301, 1303-1304 from Jan. 17, 2023, through March 16, 2023. The Defense Health Agency, Professional Services Contracting Division, Falls Church, Virginia, is the contracting activity. (Awarded Jan. 17, 2023)
ManTech Advanced Systems International Inc., Herndon, Virginia, is awarded a hybrid (line-item structure, indefinite-delivery/indefinite-quantity) single award contract with an estimated value of $22,959,248. This contract supports Joint Operational Medicine Information Systems Program Management Office's Theater Medical Information Program – Joint (TMIP-J) for ending information system operations in a planned and orderly manner (i.e., sunsetting), a comprehensive suite of IT services and IT solutions to support the TMIP-J software suite in sustainment, to include operating system validation and verification, security updates, maintenance updates, service pack support, and critical updates. This contract was a competitive acquisition with five offers received. This is a one-year base contract with four 12-month option periods with an estimated completion date of January 2028. Work location is task order dependent but may occur within the contiguous US, outside of the contiguous US, or both. Task orders will be funded by fiscal 2023 operations and maintenance funds. The Defense Health Agency, Defense Healthcare Management Systems Contracting Division, Arlington, Virginia, is the contracting activity (HT003823D0001).
ASM Research LLC, Fairfax, Virginia, was awarded an $11,408,675 firm-fixed-price contract for operation and maintenance of the Army Training Requirements and Resources System. Bids were solicited via the internet with one received. Work will be performed in Washington, DC, with an estimated completion date of Feb. 12, 2024. Fiscal 2023 other procurement, Army funds in the amount of $11,408,675 were obligated at the time of the award. US Army Contracting Command, Rock Island Arsenal, Illinois, is the contracting activity (W519TC-23-C-2003).
Johns Hopkins University, Applied Physics Laboratory LLC, Laurel, Maryland, has been awarded a $25,000,000 bilateral modification (P00015) to previously awarded indefinite-delivery/indefinite-quantity contract FA8819-18-D-0009, Task Order FA8819-20-F-1005. The contract modification provides for additional support in space protection, endurance, and survivability requirements into protection strategy, policy, and threat mitigation projects, in specific mission areas that will inform budget and program formulation. The modification brings the total cumulative face value of the contract from $64,900,272 to $89,900,272. Work will be performed at Los Angeles Air Force Base, California, and is expected to be completed by May 10, 2025. Fiscal 2023 research, development, test and evaluation funds in the amount of $5,240,000 are being obligated at the time of award. The Space Systems Command, Los Angeles AFB, California, is the contracting activity.