Surprise! The 1999 Park Plan Got a Lot Done!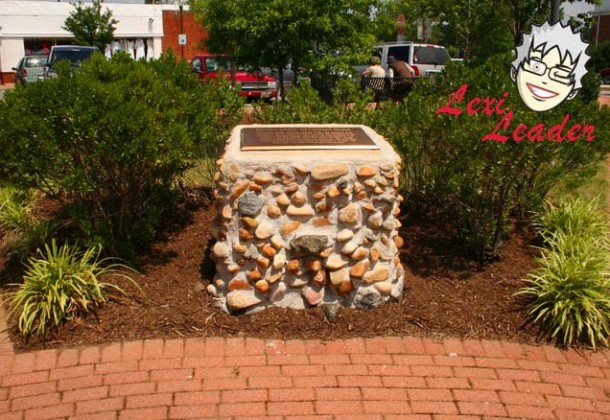 Tulagi Place memorial. Photo courtesy of Elvert Barnes.
The biggest surprise re-reading the first Lexington Park Master Plan wasn't the recollection of just how long ago 1995 really was in St. Mary County. And it was a long time ago when first we gathered to write a plan to improve Lexington Park.
The BRAC immigration was a trickle. To say Lexington Park looked crude to the forced emigration from Northern Virginia and Buck's County, Pa. is to put a gloss on it.
Plans to widen Route 235 hadn't even begun. The only place to buy a woman's dress outside of a discount store (there were several of those) was Peebles in St. Mary's Square. The perennial traffic congestion of concern at that time was along Great Mills Road where virtually all of the retail in the 8th District was located.
It was a sad surprise to discover in a 2011 re-read of the so-called "1999 plan" mostly written in 1995 was that it didn't mention any development creeping up Three Notch Road.
Still, the biggest surprise is how much of that mid-1990s plan materialized:
– An entire block of dilapidated retail on Tulagi Place was razed and partially replaced with a U.S. Post Office.
– Streetscaping occurred on the plan's targeted portion of Route 235 between Pegg Road and Hermanville Road, including utility and U.S. Navy beautification efforts.
– Pegg Road was completed and the Navy shifted Pax's main gate to relieve traffic on Great Mills Road.
– The streetscaping finale of Great Mills Road arrived in time for this latest update to the 1999 plan, which is actually only a plan for the sprucing up of what was named in 1995 the "Core" and the "Wedge" of Lexington Park.
– In 2005, the 1999 Wedge plan was encapsulated in a development district plan with roughly the same 8th District boundaries to be addressed in the 2011 update. (Details to come soon.)
– Also accomplished was the John G. Lancaster Park, the fulfillment of a mid-1990s vision to provide a significant county park off Willows Road. Already by 1995, the county-sponsored Gymnastics Center had moved to Millison Plaza, just a hop, skip and a jump from Nicolet Park (the only other Lexington Park recreational area noted in the 1999 plan).
– Nicolet did receive a skate park to increase its county-wide attraction just as the dog park located at Lancaster park is designed to pull patrons from beyond the 8th district. (What remains unaccomplished is turning the hop, skip and a jump connection down a steep dirt footpath into a public road between Nicolet Park and the largely unused parking lot in front of the gymnastics center and the recently opened Walden/Sierra Hope Place.)
– During the past 15 years since conceiving the Wedge plan, there have been staffed sheriff outposts in Lexington Park. Although intermittent during this time, the sheriffs have been the most successful at meeting the 1990s safety goal to increase government's presence in Lexington Park. Today, however, there are fewer human services in the Wedge than in 1995.
– Moving the county library off Tulagi Place both actualized development of a parcel identified in 1995 for public use and did not remove the original building from public use. Today it houses the Three Notch Players.
Naturally there were a few things we got wrong: We thought residential growth was heading south of the base. And some things we apparently never even saw coming, so we didn't do anything about Route 235 zoning above its brand new Pegg Road intersection.
Nevertheless, we got a lot more done than the cynic in me has ever conceded. Be it thus conceded. Let's keep trying:
TONIGHT
Lexington Park Development District Master Plan Charrette
Bay District Fire Department
6 p.m. (if you want the best cookies)

Be there. Stake claim.
Stories: