UAS TEST SITE: OPEN FOR BUSINESS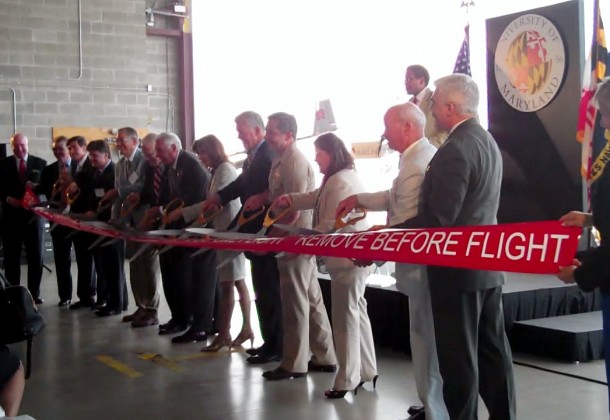 Right here, right now, in Southern Maryland, at the Walter Francis Duke Airport in St. Mary's County, Maryland, the University of Maryland has just opened a UAS Test Site and is ready for business.
The aerial portion alone of the burgeoning field of Unmanned Automated Systems is forecast to become a $90 billion industry.
The ribbon cutting drew a hanger full of VIPs representing the partnership of military, government, academia, and private industry that collaborated to bring the test site to fruition as well as a planned University System of Maryland research and academic center to St. Mary's County. Each speaker touted the test site as the first step toward Southern Maryland becoming a national hub for UAS development and manufacturing.
"We are all going to look back on this day and say, 'I was there at the start,'" said Mary Ann Rankin, Provost of the University of Maryland.
The collaboration and opening of the test site will accelerate UAS research, according to Darryll Pines, Dean of the A. James Clark School of Engineering at the University of Maryland, which operates the program from the College Park campus. That campus, said Dean Pines, is also home to the longest operating airport in the US, begun in 1909 as an airfield for Wilbur and Orville Wright to teach the military how to fly planes. Today, he said, the University of Maryland will tie UAS to Pax River.
The insistent vision to leverage the brain power centered at Pax to build a world class economy in Southern Maryland is largely credited to Del. John Bohanan. William "Brit" Kirwan, Chancellor of the University System of Maryland, was not the only speaker to note Delegate Bohanan's tenacity and commitment.
Chancellor Kirwan was convinced and a collaboration of the broad array of partners anticipates building a research classroom  next year at the Southern Maryland Higher Education Center next door to the airport.   The opening of a University of Maryland UAS test site next door came as a nearly immediate bonus as a result of the agreement.
The level of partnerships were clear from the list of speakers.
•   Congressman Steny Hoyer
•   State Delegate John Bohanan
•   William "Brit" Kirwan, Chancellor, University System of Maryland
•   Mary Ann Rankin, Provost, University of Maryland
•   Vice Admiral David Dunaway, Commander, Naval Air Systems Command
•   Rose Mooney, Executive Director, Mid-Atlantic Aviation Partnership
•   Jack Russell, President, St. Mary's County Board of Commissioners
Added in for a few quick remarks was John S. Langford, Chairman and CEO of Aurora Flight Sciences Corporation, which has already leased space and intends to open a substantial office next to the test site. He said the decision to open an office here was easy. "With a great university, a good airport and inspired political leadership there is no limit," he said.
St. Mary's County Commissioner President Jack Russell was enthusiastic to welcome the educational center and all it will mean for  St. Mary's County and Southern Maryland which can now look toward a future decade  as successful as the Silicon Valley of the 1970s.