Three and a Half Plans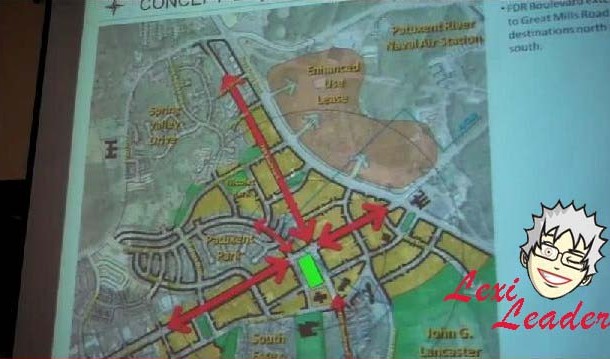 A lot of people (more than last month) saw a lot they liked in three Lexington Park re-development concepts  consultants  unveiled this week.
And then they asked for more.
A striking consensus of the 100-plus crowd liked that all of the plans (especially those named the Library Plan and the Three Notch Gateway Plan) added a lot of new roads.
[youtube=http://www.youtube.com/watch?v=HoQNgxE1xHA]
The roads weren't big. Rather, they were connectors between neighborhoods. Citizens complained that current neighborhoods jutted off the Route 235 and Great Mills Road as if each was a separate, giant cul-de-sac. These roads, they felt, would both relieve traffic on the two state roads and make it easier to get around between the two roads.
In all three plans (the third named for Millison Square) the much discussed and cussed FDR Boulevard cuts a swath through Nicolet Park on its way to the Lexington Park Library. A lot of people didn't like that, they liked the large size of Nicolet.
Also notable was the shift down Great Mills Road of the "center of town." Historically located at Tulagi Place and Route 235, that area is covered with an aircraft overflight restrictive building zone. The lack of certainty of what can be build there has kept developers away, despite public efforts to attract investment in that area.
[youtube=http://www.youtube.com/watch?v=wdAxq6B5NK8]
The identification of a "town center" was little more than a symbolic focal point in two of the plans and on the county-owned Lexington Park Library property in the Library Plan. Only this latter plan moved the center outside the overflight zone and thus permitting uses that involve the congregation of people.
Two of the five small working groups suggested the center of town be moved to St. Mary's Square, a spot the consultants considered a "gateway" to Lexington Park but not a central locale. Even so, a number of the roads proposed in the plans led to St. Mary's Square.
The consultants plans are to return in September with an attempt to amalgamate the plans and comments into a draft. But, given the call from two groups and applause at the presentation of the idea of St. Mary's Square as a town center, it was suggested the consultant develop a fourth plan.
[youtube=http://www.youtube.com/watch?v=RkCSy081AZg]
Stories: