From St. Mary's to Crisfield UAS Airfields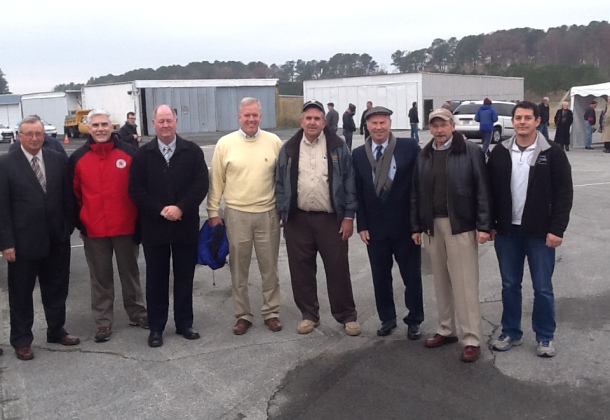 Leaders from the Eastern & Western shores pose at Crisfield Airport
at the first UAV launch for the UMd UAS Test Site headquartered in St. Mary's County, MD
The University of Maryland Unmanned Aircraft Systems Test Site is a part of the Mid-Atlantic Aviation Partnership with Virginia and New Jersey under the FAA UAS Test Site program. The UAS airfields partnering with the University of Maryland include  NAS: Patuxent River, Crisfield Airport, and Wallops Flight Facility.
Headquarters for the University of Maryland's site is at the St. Mary's County Regional Airport. The Test Site recently received its first FAA Certificate of Authorization (COA). The COA approves UMD UAS Test Site operations.
The first approved operation for the UMd test site allowed the 20 foot wingspan Talon 240 manufactured by UAV Solutions, Inc. based in Jessup, MD, to launch the first UAV from the site's Crisfield- Somerset County Airport Dec. 5, 2014.
No videotaping was permitted of the flight, but in the video below of the quick helicopter jaunt from St. Mary's to Crisfield and back, there are a couple glimpses of the UAV in its pick-up truck launching pad.