Pokémon a No-Go on Govt.-Issued Phones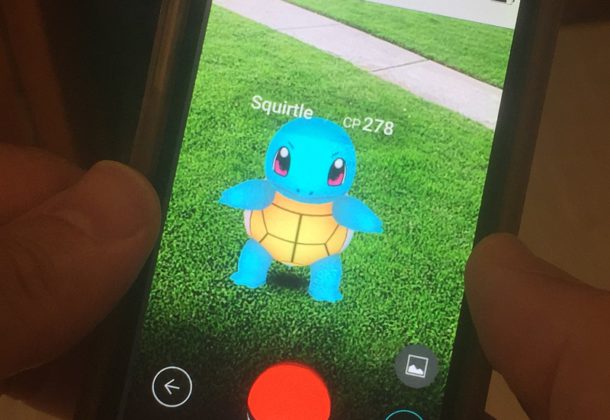 Morning Coffee is a robust blend of links to news around the Internet concerning the Naval Air Station Patuxent River

economic community. The opinions expressed here do not reflect opinions of the Leader's owners or staff.
The Pentagon has urged military troops and other Defense Department personnel not to play Pokemon Go on their government-issued cellphones, Military Times reports. "I think taxpayers would appreciate government phones being used for government business," spokesman Gordon Trowbridge said. However, "there is no ban on playing" the location-based augmented reality game on Defense Department property, he said.
A US Navy T-45 Goshawk crashed Sunday night injuring a Navy instructor and a student pilot, Navy Times reports. The pair ejected themselves from the plane before it crashed in a South Texas field during a training flight from Naval Air Station Kingsville, TX.
SpaceX launched its reusable Falcon 9 rocket from Cape Canaveral, FL, on Sunday. The rocket lifted a Japanese communications satellite into orbit, MSN.com reports. See the video here.
The Hill reports that Democrats and Republicans in Congress are digging in for a fight on defense spending that is unlikely to be resolved until after the election. Todd Harrison, senior fellow at the Center for Strategic and International Studies, says Congress must approve a new government-funding bill before the end of September to keep the government open. Most expect a short-term resolution, either into December or next year. "We're going to start the fiscal year, October 1st on a continuing resolution. It will be at least until December," Mr. Harrison said.
Marines are now looking for a few good women. Marine Commandant Gen. Robert Neller wants to increase the number of women in the corps to 1 in 10. "I've told them that 10 percent is where we want to go, and they're working on it," he told The Associated Press. "Go recruit more women. Find them. They're out there." For years, only about 7 percent to 8 percent of the USMC, which numbers 184,200, has been women.
Sen. Joni Ernst, a former Army lieutenant colonel and the first female veteran elected to the US Senate, is encouraging young female soldiers, sailors, airmen, and Marines, to take advantage of their new opportunities in the military. She writes in Navy Times, "[E]ncourage women already in the service to take hold of this new opportunity in combat job fields, and to tell those thinking about serving that I have felt no greater honor than wearing the uniform of my nation.  I fully support women having the opportunity to serve in any military capacity, as long as standards are not lowered and it does not reduce our combat effectiveness."
After more than a decade of missteps by the Pentagon, the US Air Force and Boeing, the airborne tanker program took a major step forward as the KC-46 passed Milestone C, Breaking Defense reports. Gen. Dave Goldfein, AF chief of staff, says the Air Force and Boeing stepped up to meet the recent challenges in a statement announcing the approval of Low Rate Initial Production. This means the first two LRIP lots for 19 planes will be announced within the next 30 days.
Seapower reports, mine warfare experts from Naval Surface Warfare Center Panama City Division are preparing for the first major milestone of Allied Munitions Detection Underwater, or ALMOND, a joint project with a German organization. The mine warfare experts will take the technology to the Baltic Sea, including acoustic and magnetic sensors, to operate "side by side with comparable German systems to see the differences and to learn from one another with the goal of advancing technologies and techniques for the detection, classification, and mapping of bottom and buried munitions," the magazine reports.
An opinion piece in The Diplomat says that India's purchase of four Boeing P-8Is is a step in the right direction for the Indian Navy, but more work needs to be done. The Indian government's decision to purchase the aircraft through the US Foreign Military Sales program addresses a gap in India's airborne anti-submarine warfare capability, Pushan Das writes, but there is a need for acquiring force-multipliers and developing tactics to maximize the potential of such expensive platforms.
Gen. John Nicholson, commander in charge of US forces in Afghanistan, has asked India to step up military aid in the Asian country, Defense news reports. His call to action comes as Western sanctions against Russia is leading to a scarcity of spares for Russian-made weaponry used by Afghan forces.
In preparation for the December arrival of Israel's first F-35 fighter jet, that country's Ministry of Defense completed a semi-annual data summary to reveal that since first signing with the plane's manufacturers led by Lockheed Martin in 2010, the Defense Ministry's procurement department has purchased locally $993 million in reciprocal procurement transactions so far, Breaking Israel News reports. Since December 2015, new deals amounting to $220 million have been signed, marking a 28 percent jump in reciprocal procurement.
Navy Times readers react to news the service is dumping the blue-and-gray camouflage, or "blueberries," Navy working uniform for the woodland version. Emotions range from excitement and optimism to derision and dismay.