Be Pampered at the Striped Rock Restaurant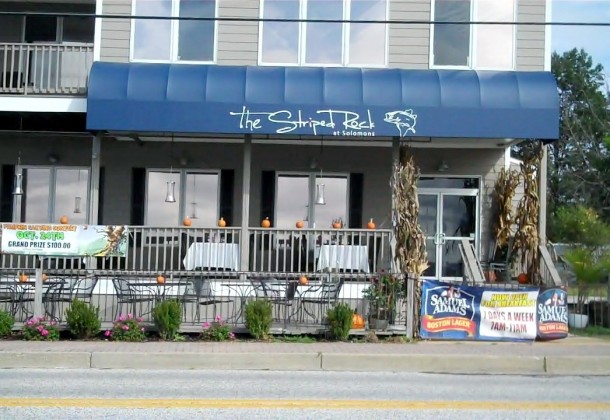 Posted by
The Dorsey Law Firm
Leading Edge   By Barbara Geehan Editor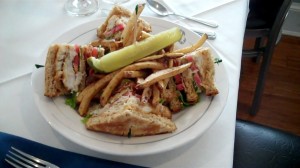 Don't you wish there were more choices for fresh local seafood in a chic dining room other than your neighbor's kitchen? Well, there are.
Recently, we were gazing outside the large picture windows at the Striped Rock at Solomons restaurant as the afternoon fall sun  glistened off the Patuxent River and puffy white clouds drifted in the blue sky. But very quickly our attention was diverted back indoors when the lunch plates arrived.
My friend Georgia had chosen the Striped Rock club sandwich: pan-fried rockfish, applewood smoked bacon, blackened aioli, tomato, and lettuce wrapped on a sour dough roll. I chose the popular lobster roll: fresh steamed Maine lobster, celery, onion, mayo, and lemon wrapped in a soft toasted New England roll. Both were also served with house-cut fries cooked crisp and tossed in truffle salt and olive oil.
The service was friendly and knowledgeable and lunch was excellent, especially when we alternated bites with a chilled chardonnay….and split a limoncello cake with raspberry drizzle for dessert. And all was cooked by executive chef Sandy Stallings who comes to Striped Rock with 30 years of experience.
And did I mention the portions! They were huge! This is the second time I have been to the Striped Rock and both times – lucky me – I  brought home dinner.
"The focus," says co-owner David Napierskie, "is on local produce and fresh food. That's what makes us different" on Solomons' main street.
And soon there will be even more to choose from. Mr. Napierskie says the upstairs – which is currently not in use – is being renovated to accommodate 100 seats in an elegant dining room. The new large silver-backed menu will be three pages long with daily specials. "The place will have a more relaxed environment and be more focused on the whole dining experience," says Mr. Napierskie. "And you get to enjoy the view."
You will be able to book the space for special events; in fact,  already a number of celebrations have been booked for the holiday season. You can go online to make reservations. Hours are 7 am – 11 pm Mon – Sun for breakfast, lunch, and dinner. (410) 449-6059.
Stories: