First UAS Test Flight a Success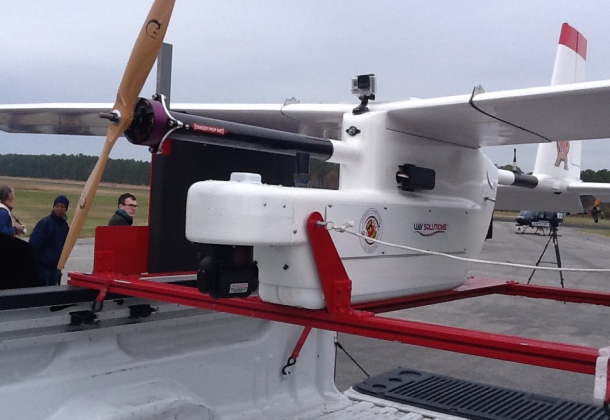 The first UAS test flight from the University of Maryland's Unmanned Aircraft Systems Test Site headquartered at St. Mary's Regional Airport went off without a hitch last week from its partner airfield at the Crisfield- Somerset County Airport.
The Talon 240, manufactured by UAV Solutions, Inc. based in Jessup, MD, launched from the back of a pickup truck Friday morning and soared above a crowd of officials representing the academic, industry, and government consortium that brought the test site to fruition.
The UMD test site at St. Mary's County Regional Airport operates through the James Clark School of Engineering and unabashedly describes its mission as leveraging the brain trust nurtured by NAVAIR, the Naval Air Systems Command, into economic development for Southern Maryland and the entire Mid-Atlantic Region. In addition to Crisfield, NAS: Patuxent River and Wallops Flight Facility in Virginia are other partnering airfields.
Del. John Bohanan (D-29B) represented St. Mary's County at the Dec. 5, 2014 launch as well as St. Mary's County Commissioner Todd Morgan and former St. Mary's County Commissioner President Jack Russell. Ken Reed, attended Eastern Shore, University of Maryland and St. Mary's County officials.