ExtraSpace Storage, For When Life Happens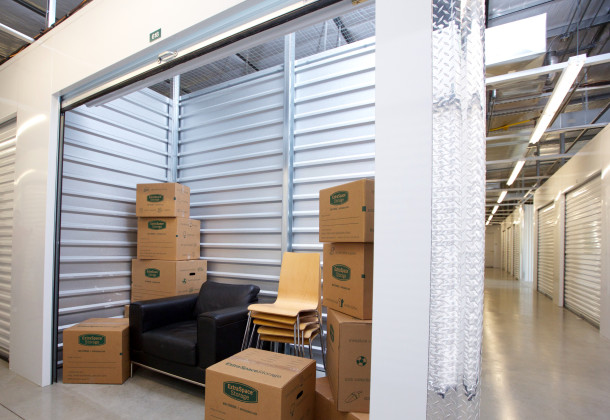 Have you ever found yourself thrust into a situation where you needed a new, safe place to store valuables, and you needed it, like, yesterday?
If you haven't yet experienced that, you probably will, because life happens.
ExtraSpace Storage at Willows Road in Lexington Park is the solution for people looking for temporary and long-term storage in times of transition.  Those transitions can be wonderful (new baby, new marriage, new job, new house) but can also be disruptive (property damage, a major move, a divorce, a death of a friend or family member).  At all those times, when there is so much going on and so much to think about, how to store and protect important possessions should not be an added worry.
ExtraSpace Storage at Willows Road offers a huge range of storage units —  433 in all — ranging in size from 5×5 feet to 10×30 feet. The facility has state-of-the-art security, including motion detection cameras providing 24-hour video surveillance, electronic gates and a manager who lives onsite.
Any number of situations could arise that would send you in search of a facility like ExtraSpace Storage at Willows Road.
WEATHER DAMAGE: Anyone who has experienced Southern Maryland's seasonal weather swings likely remembers Isabel in 2003 and Ernesto in 2006, and the F-4 La Plata tornado in 2002, three ferocious storms that wreaked havoc on lives and communities. Many families and businesses were displaced for months, some longer, as properties had to be cleaned and repaired, and in some cases, rebuilt.  The belongings rescued from damaged buildings needed temporary homes in a secure location. ExtraSpace Storage at Willows Road can provide prompt, reassuring assistance with crises like these.
SETTLING AN ESTATE: As the executor of an estate you become responsible for items with significant monetary or sentimental value. Decisions about how to transfer possession of these items can't always be made swiftly.  In many circumstances, you may need to store them for a period of time in a climate-controlled environment.  Extra Space Storage at Willows Road has experience protecting goods like these and can be relied on to provide considerate service.
CAREER ADVANCEMENT: Your dream job has been offered to you, and the new boss wants you on the job just as fast as you can get there — 2,000 miles from your current rental.  Move your stuff to a unit at ExtraSpace Storage at Willows Road on a month-to-month lease and head to the airport.  Find your dream home at the new location and then arrange for the goods in your storage unit to be shipped to you.
There are dozens of other scenarios in which self-storage can be the answer to managing a life change, major or minor.   To find out more about ExtraSpace Storage at Willows Road Business Park, visit their Leader Member Page.