Expect More Unpredictability in US Military Operations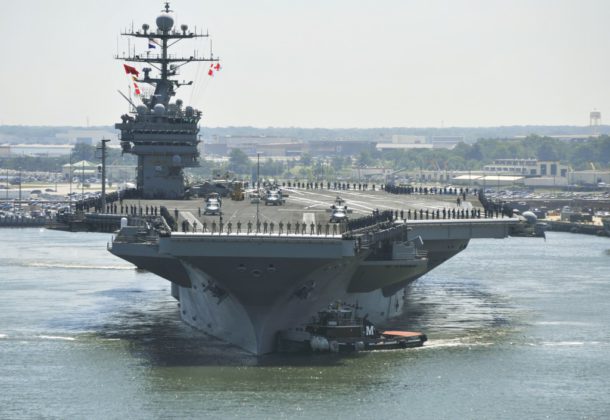 Morning Coffee is a robust blend of links to news around the internet concerning the Naval Air Station Patuxent River

economic community. The opinions expressed here do not reflect opinions of the Leader's owners or staff.
To interject more unpredictability into military operations, the Harry S. Truman Carrier Strike Group returns to Norfolk this week just three months after deploying, reports The Virginian-Pilot. ADM Christopher Grady, commander of US Fleet Forces Command, said "… all returning units are 100 percent mission-capable … which means they will sustain warfighting readiness and be ready to surge forward or redeploy when called upon."
The nation's newest aircraft carrier, the USS Gerald Ford, has also returned to Norfolk for a year of planned upgrades and fixes, reports Navy Times, most notably its electromagnetic launch system.
More than 130,000 veterans can apply for refunds of taxes they paid on disability severance pay dating back to 1991 — a minimum of $1,750 per veteran, reports Military Times. These refunds are the result of a law passed in 2016 — the Combat Injured Veterans Tax Fairness Act of 2016 — which applies to veterans who received this pay dating back to Jan. 17, 1991, with taxes withheld.
Military binge drinking is down but e-cigarette smoking is up, reports Military Times. Surveys show that both areas still need to be addressed to lower the percentages. Researchers recommended DoD officials pay attention to the increasing use of e-cigarettes — 12.4 percent of those surveyed reported using them in the previous month, compared with 4.6 percent in 2011.
Hairstyle changes for women and earrings for men off duty coming to the Air Force, reports Air Force Times. But the changes do not extend to the Naval Academy, reports Navy Times. The academy "will look at the policy and discuss how the regulations for midshipmen will change moving forward, " said an academy spokesman.
High-level military talks between US and North Korean were held for the first time in nine years, a move that veterans advocates hope will advance efforts to recover the remains of thousands of fallen American troops.
The UK selects Lockheed to help develop its first domestic commercial spaceport in Melness, Scotland, reports Defense News.
Britain introduced its concept for a new fighter jet at the Farnsborough Airshow, seeking development of the Tempest combat aircraft through international cooperation, reports Aviation Week. A year ago France and Germany announced plans to jointly develop a future European fighter. Along with the reveal of the new aircraft, reports Defense News, the formal signing of the UK's future combat air strategy took place on the opening day of the airshow. A joint program office — consisting of government divisions alongside BAE Systems, Leonardo, MBDA, and Rolls-Royce — will develop the new design under commitments made in the UK's 2015 Strategic Defence and Security Review that allocated $2.6 billion in funding of technology by 2025.
Federal authorities charged a Russian citizen living in Washington, DC, with conspiracy to act as an illegal agent of the Russian government, reports Politico. Mariia Butina, 29, at her appearance in court Tuesday, asked to be released from jail, her attorney telling US Magistrate Judge Deborah Robinson that Butina was not a flight risk.
US News reports France was a nation sorely in need of a boost as the nation celebrated its national soccer team returning with the golden World Cup trophy in hand. "Eternal Happiness" said Monday's headline in the sports daily L'Equipe, summing up the mood of many.
Contracts:
Leidos Innovations Corp., Gaithersburg, Maryland, is awarded $15,948,573 for cost-plus-fixed-fee order N6893618F0598 against a previously awarded indefinite-delivery/indefinite-quantity contract (N68936-16-D-0018). This order provides for the procurement of 135 Joint Threat Emitter spare parts for the repair and sustainment of Electronic Warfare Target/Threat systems deployed at test and training ranges in support of the Air Force. Work will be performed at the Naval Air Warfare Center Weapons Division, China Lake, California, and is expected to be completed in July 2019. Fiscal 2016 and 2017 other procurement (Air Force) funds in the amount of $5,948,674 are being obligated at the time of award, $96,095 of which will expire at the end of the fiscal year. The Naval Air Warfare Center Weapons Division, China Lake, California, is the contracting activity.
EHRTS LLC, Arlington, Virginia, was awarded the second option year with a potential of $14,436,145 for an indefinite-delivery/indefinite-quantity contract (HT0011–16-D-0001 P0004). This award, titled "Next Generation Tri-Service Workflow Services," provides workflow and website sustainment. This is a non-personal services contract to provide subject matter experts in the form of senior physicians, senior physician assistants/nurse practitioners, and junior physicians, training management, and program managers. The contractor will provide medical and information technology workflow support services for enterprise systems. Tri-service workflow services specifically leverage enterprise Department of Defense information technology (IT) solutions to help standardize functionally directed clinical workflows at every military hospital and clinic worldwide for the legacy electronic health record systems and the new Military Health System GENESIS system. The level of effort is dictated by clinical needs, policy and IT limitations. This contract encompasses the entirety of the development lifecycle (planning, implementation, testing, documentation, deployment/training, analysis, and eventual closure) of workflow solutions across the enterprise. The work will be performed in Falls Church, Virginia, for a period of performance from July 14, 2018, to July 13, 2019. This contract was competitively procured on Federal Business Opportunities (FBO.gov) in 2017. The Defense Health Agency, Falls Church, Virginia, is the contracting activity. (Awarded July 13, 2018)