Art Auction Provides WARMTH

By Barbara Geehan
Contributing writer

There are signs the economy is improving incrementally nationwide, and we do have the chugging engine of Patuxent River Naval Air Station. But don't for a second think that this cushions St. Mary's County from the demanding, continuous needs to help the poor, especially the homeless.
For 20 years, the Three Oaks Center has been working to provide services for them. On Saturday, Nov. 24, from 2-7 p.m., the center holds its annual WARMTH art show and silent auction to help raise needed funds.
This year, the seventh for the auction, 30 artists have volunteered their time and works, more than ever before.
"There is something for everyone," says Lanny Lancaster, Three Oaks executive director. "Textiles, oil, watercolors, and pottery – all is for sale."
The $5 donation, and all proceeds from the auction and sales of special sandstone coasters, and 30 percent of all the art sales will go directly to the Center to help the county's homeless. Come to the Camalier House, 22635 Washington St., off Leonardtown Square.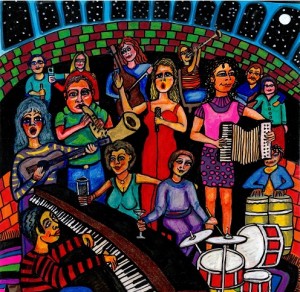 "We have been so fortunate to have some wonderful artists with us for all seven years, and each year we add more Southern Maryland talent to our group," says WARMTH co-chair, Jackie Lancaster. "The talent resident in our community is astounding.
Artists? Homeless? How did this unique partnership begin? Well, WARMTH (Working Artists Raising Money for The Homeless) is certainly a family affair. Jackie Lancaster, Lanny's wife, is co-chair and creator of this amazing event, along with her sister Mary Owens, an artist. Jackie calls her the "soul" of the event.
"The idea behind WARMTH was to address a really ugly problem – homelessness – with something beautiful: the work of Southern Maryland artists," says Jackie. "And I think that's what makes more artists join us every year.
"I actually find a really interesting parallel between artists and the most vulnerable members of our community – those who find themselves in need of shelter and support. Many artists who have set off to pursue their passion know firsthand how difficult and challenging it can be to thrive in a world where you put the product of your inspiration, talent, and effort on display for the entire world to critique. It requires an enormous amount of dedication, determination, and courage to bare your soul that way – and it can be financially tough as well! When I ask artists to support this cause, they seem to understand immediately how important it is, and they always want to know what else they can do to help. We're so lucky to have such talented and generous people in our community."
Three Oaks is unfortunately finding that more people – and new sectors of society – are losing the roof over their heads.
"We will always have the chronically ill, the mentally ill, the youth who are unemployed," says Lanny. "But we are finding that those people who have never been hurt before – the working poor – are finding it harder and harder to pay the rent. Families, it's very sad. What we are seeing now, families struggling with gas prices, food prices."
Three Oaks provides emergency, transitional, and permanent housing to help individuals and families; and helps with appropriate resources so they may return to a productive, self-sufficient life in St. Mary's County.
"It's really tough out there right now," adds Jackie. "Three Oaks is helping so many people in our community. I really hope people will come out as they have in so many past years to help this cause. We can't do without them."