Watch out for Rabid Kittens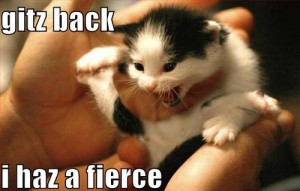 The St. Mary's County Health Department is reporting a stray kitten, collected from Bayside Way in California, Maryland, has tested positive for rabies.
Rabies is a potentially fatal virus transmitted through a bite or saliva contact from an infectious animal. Four other kittens and a mother cat related to the rabid kitten remain at large and are considered to be potentially rabid. Residents living in the area are urged to avoid contact with unfamiliar animals and to report stray animals to St. Mary's Animal Control at 301-475-8018.
As a general rabies prevention reminder, pet owners are urged to maintain current rabies vaccines for owned cats, dogs and ferrets. Do not feed stray animals or leave food unattended outdoors for pets. Keep pets on a leash or in a fenced area when outdoors.  Parents and guardians are urged to instruct their children to avoid contact with stray or unfamiliar animals. Stray animals or animals behaving unusually should be reported to Animal Control at 301-475-8018 during normal business hours or 301-475-8016 during after hours. All animal bites should be reported to the St. Mary's County Sheriff's office at 301-475-4200 Ext. 1900.
Source: St. Mary's County Health Department