It's a Vintage Source Weekend
Posted by Vintage Source Choose Local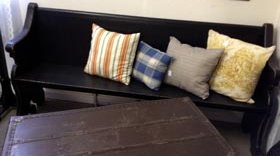 Recasting industrial pieces into house-scaled re-imagined uses is the rage at St. Patrick's weekend at Vintage Source in Compton.
This Saturday and Sunday, the 17th and 18th, from 8 a.m. to 4 p.m. the doors open on another  month's worth of collecting, re-imagining and refinishing at the unusual and unique furniture and accessory store in the region.
Recently named "Best Vintage sales from coast to coast-our readers share their favorite barn sales, occasional sales, and once-in-awhile sales" in Flea Market Style.  Anything from soup to nuts is not too broad a description of what  Vintage Source finds up and down the East Coast and throughout the Mid-Atlantic region. And re-imagined is not to broad a description of what happens to the finds.
Owner Michelle Radez expects industrial re-use to remain a hot decorating style for the upcoming seasons. She continues to work with adding the warmth of wood to an  array of re-imagined metals to bring forth a completely new look for both materials.
More of her pieces are readied for this weekend, including a wooden paneled vintage typing stand ready for portable re-use as anything from a typing table again to a counter or expandable table.