Trinity Episcopal Church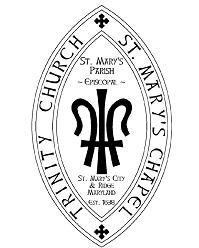 After the first English settlers in Maryland landed at what would become St. Mary's City in 1634, they established the first Trinity Church at Trinity Creek. Four years later, the church was moved to St. Mary's City, and, in 1829, construction began on the present day Trinity Church.
Trinity Church is part of the St. Mary's Parish, which also includes St. Mary's Chapel in Ridge. The parish is a member of the Episcopal Diocese of Washington.
The mission of St. Mary's Parish is:
to be the family of God
to know Christ
to make Christ known
to love God in Christ through our worship and service to others
The Vestry Goals for the Parish are:
to respond to growth
to deepen the spirituality of the congregation
to deepen the members' commitment to the mission of the Church
to develop new sources of income for the parish
to respond to changing staffing needs
to meet the changing program needs of the parish
Stories
Preserving the Sacred Arts at Trinity Episcopal Church
Refurbishing Community Centers with a Day of Caring