Sabre Systems
Company Description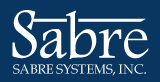 Sabre Systems, Inc. is a mid-sized, global solutions provider of engineering, information technology, logistics, program management support, and software development services to U.S. defense and civilian agencies and commercial clients. Our customers enjoy the flexibility and responsiveness of a small company, while receiving the highest level of technical and management competence.
Sabre is ISO 9001:2000 certified and has attained the Capability Maturity Model Integration (CMMI) Maturity Level 3 (ML3) rating by the Carnegie Mellon Software Engineering Institute following a successful Standard CMMI Appraisal Method for Process Improvement (SCAMPI A) appraisal.
Founded in 1989, Sabre Systems, Inc. is headquartered in Warrington, Pa., and has offices in Lexington Park and Aberdeen, Md., Alexandria, Dahlgren and Virginia Beach, Va., Charleston, S.C., Manasquan, N.J., and Bloomington, Ind.
Specialized Services
Sabre specializes in providing the following services.
Information Technology:
Engineering:
Program Management:
Software Development:
Logistics:
Community Outreach
Sabre is an active and long-standing supporter of organizations including, St. Mary's Hospital, St. Mary's HealthShare, United Way of St. Mary's County, American Red Cross, St. Mary's Caring, Big Brothers / Big Sisters of Southern MD, Arthritis Foundation, Juvenile Diabetes Foundation, Alzheimer's Association, Hospice of St. Mary's and the Hollywood Lions Club.  We also support the arts and culture in the area including the St. Mary's River Concert Series, Chamber Orchestra of Southern Maryland in Concert, the St. Mary's County Oyster Festival, Artsfest held at Annmarie Garden, Riverside Winefest held at Sotterley Historic Plantation, and the St. Mary's Watershed Association's RiverFest.
Our support also extends to our military service men and women. We support Operation Uplink, Soldiers Angels, Wounded Warriors Project, Women in Defense and the Individual Augmentation Spouse Support Group which provides support to the NAS Patuxent River families of officers and sailors placed on standby for deployment to Afghanistan and Iraq.
Sabre senior leaders are also directly involved in supporting the Southern Maryland community by offering leadership in the following organizations:Â  United Way, College of Southern Maryland, TriCounty Council Workforce Investment Board for St. Mary's County, Leadership Maryland Program and The Patuxent Partnership.
Follow Us
Facebook | Twitter | LinkedIn | WordPress
Stories
Shawn Watt Proves to Be One of Sabre's Strongest Links
Sabre Celebrates Its Leading Edge Award
Sabre's Dowling to Speak on International Project Management
Sabre's Dowling to Speak at Narco-Terrorism Conference
Sabre Proud to Sponsor Lion's Club Tourney for 10th Year
Sabre Systems Launches STEM Scholarship Program
Sabre CEO Lends Advice to Contractor Growth Strategy Panel