Pax River Limits Hours on Gate 3, Despite Pleas
By Jay Friess
Editor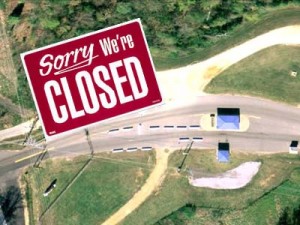 Despite requests from both the St. Mary's County Commissioners and the property manager of Pine Hill Technology Park in Lexington Park, Maryland, Naval Air Station Patuxent River announced Tuesday that it will be severely limiting the hours of operation for its southernmost gate.
"Beginning Oct. 1, NAS Patuxent River Gate Three is only open weekdays from 5:30 – 8:30 a.m. for inbound and outbound traffic, and from 3:30 – 5 p.m. for outbound traffic," the statement read.
The reduction in gate hours reflects the overall belt tightening being endured by Naval Facilities Engineering Command (NAVFAC) Washington, as the Navy shifts its financial resources from domestic bases to fleet operations in advance of expected defense cuts.
Rumors of the decision permeated the local business community for the last couple months, and county officials and Pine Hill's management sought to dissuade the base from closing the gate entirely.
"While we understand the difficult decisions that you and others are being asked to make due to budgetary issues, there are many people outside the fence line  who would be greatly impacted in a negative manner by the limited access to Gate 3," wrote Barbara Svenson, Pine Hill's property manager in a Sept. 4 letter to Capt. Ted Mills, Pax River's commander.
Ms. Svenson suggested that the Navy should consider 11 undeveloped acres at the Pine Hill property as an solution to its office space needs, which NAVFAC is trying to solve using the Enhanced Use Lease program.
The county commissioners also expressed their displeasure with the proposed gate schedule changes in a Sept. 11 letter to Capt. Mills.
"As you know, Gale 3 is the primary ingress/egress for over 1,500 base employees, and a reduction or closure of this gate would have a significant negative impact on these employees, as well as the surrounding community," the commissioners wrote. "Local roadways, which are already strained with base traffic during morning and afternoon rush hours, will be burdened with additional traffic caused by commuters seeking alternative transportation routes."
The commissioners say Great Mills Road and Route 235 will not be able to handle the additional traffic and that commute time will increase. They also fear the gate closure will negatively impact the new county Farmer's Market on Route 235.
The commissioners also expressed concern over Pax River's proposed plan to reduce hours at the Webster Outlying Field pass office.
"The pass office at Webster Field accommodates over 300 visits per week," the commissioners wrote. "Limiting its operations to one day per week will obviously increase the volume of users at Gates 1 and 2. Additionally, the inconvenience that many will experience when they drive to Webster Field only to be told to drive back to [Pax River], will result in hundreds of lost work hours and additional costs. Both Pax River pass offices will become overly burdened."