Nigerian Sailors Celebrate Training Graduation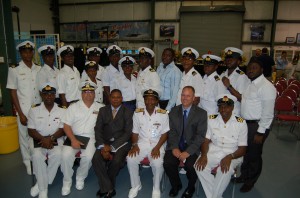 The Gulf of Guinea on the west coast of Africa is a busy and volatile region of the world, and it falls to the officers and sailors of the Nigerian Navy to keep the peace.
That job may get a bit easier now as they return to their country from Southern Maryland with fresh training on how to operate and maintain the SureTrak system they recently bought from domestic contractor CSC.
On Friday, CSC and The Patuxent Partnership held a graduation reception for the Nigerian trainees at the Patuxent River Naval Air Museum in Lexington Park.
According to Commodore Pa Agba, head of the Nigerian cohort of trainees, his country's adoption of the SureTrak system will "make the maritime environment more transparent" to him and his sailors. He said this is the second group of graduates who has trained at Naval Air Station Patuxent River.
According to Mr. Paul Aus, deputy program manager of CSC's SureTrak group, the Nigerians will be able to use SureTrak to combine information from radar, ship beacon tracking and security cameras to create a better picture of what is happening daily on the Gulf of Guinea and use the knowledge to combat smuggling and oil theft.
"They've been exposed to [SureTrak] in part, but this is more of a formal training," Mr. Aus said, noting that the trainees now know how to fully operate and maintain the system they bought through the Navy's Foreign Military Sales program.
The graduates were congratulated by St. Mary's County Commissioner President Jack Russell and Del. Johnny Wood as well as Capt. Steven Hall, who represented the Sheriff's Office.
"We're all brothers," Capt. Hall told the graduates. "We're all on the same side of this. … The difference between order and chaos is you."