Reservations Opening for Madrigal Dinners at HSMC
Posted by
Historic St. Mary's City
Leading Edge
St. Mary's City, MD — Start your holiday season in style at a colonial Madrigal Dinner. Historic St. Mary's City will host the 41st annual series of celebrations featuring feasting, frolicking, and song in the State House on Dec. 7, 8, 9, 14, 15, and 16.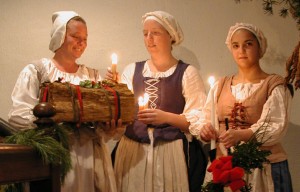 Holiday revelers have feasted through the ages. In the colony, delicacies arrived with the tobacco fleet towards the end of the year and cool weather signaled time for butchering meat and decanting beverages that had fermented since the harvest. The notion of adding music to the meal was introduced to England from Italy, and the 16th-century lords and ladies of the land enjoyed great madrigal feasts.
Today's madrigal dinners  feature other customs that were probably familiar to the colonists. The burning of a Yule log, a common practice by the Middle Ages, was thought to bring good luck in the New Year. Plants that magically remained green through the bleakest times have held a special significance since Ancient Rome. In 15th- and 16th- century England, musicians sang carols to introduce the Christmas story to those who were unable to read.
All of these traditions are part of HSMC's Madrigal Dinners. Enjoy delectable fare from Expressions of St. Mary's, lavish decorations designed and installed by the Mistress Brent Garden Club, and beautiful harmonies by St. Maries Musica.
Join the Lord and Lady of the Manor in the Great Hall at 6 p.m. on Fridays and Saturdays. In response to guests' suggestions, this year's Sunday dinners will begin at 3 p.m. Admission is $85 for the general public ($80 Friends members). Reservations are required and will be accepted beginning Oct. 2. Contact Muffin at 240-895-4991 or events@stmaryscity.org soon to ensure your place at the feast!