Learn about Maryland's Natives and Colonists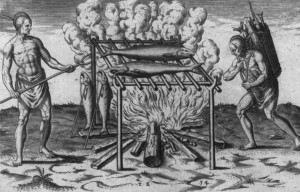 Explore the interactions between this region's first people and the colonists  in an evening lecture by  Julia King, Ph.D.  at Historic St. Mary's City on Sept. 14.
Dr. King, professor of anthropology and museum studies chair at St. Mary's College of Maryland, will look at ways Maryland's Indian population and the English colonists impacted each other. "A Place Now Known Unto Them:" The Archaeology of Anglo-Native Relations, 1634-1711 will examine what archaeological discoveries in Charles County are revealing about the everyday but complex relations between natives and invaders.
The free lecture will take place at 7 p.m. in the HSMC Visitor Center (18751 Hogaboom Lane).  For more information, contact the museum at 240-895-4990 or e-mail info@stmaryscity.org.
Source: Historic St. Mary's City