JefClarkArt to Attend Fall Island Cottage Sale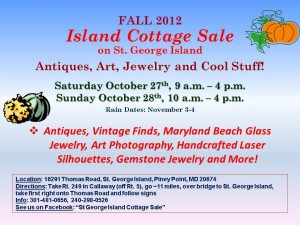 The next rendition of the highly regarded Island Cottage Sale has been slated for Oct. 27 and 28. This semi-annual event held on St. George Island is a cooperative effort mounted by local artists — painters, photographers, jewelry makers, sign makers, potters – and antique dealers and furniture makers to showcase local talent.
For the third time, JefClarkArt will be a participant, displaying a large collection of photographs of scenes from across Southern Maryland and beyond — far beyond, in some cases, as there are a few photos from South Africa and California as well as St. Mary's and Calvert Counties.  Of special interest to local residents, JefClarkArt will be offering a small limited edition book of photographs entitled Southern Maryland Alive and Well!
The event, which has no similarity to a yard sale, will begin at 9 am on Saturday, Oct. 27, at a cottage on the banks of the Potomac River on Thomas Road, St. George Island. Signs will direct participants to parking and the entrance to the sale. Lunch will be available from a local caterer.
Source: JefClarkArt